Looking for the best RV Parks in Texas? The Lone Star State is an amazing and huge part of the world with many intriguing cities and even better national parks, there's a lot to do.
With hot sunshine during the summer and temperate winters, Texas is a year round destination, especially for RVers. And with such a large area, there are many Texas RV parks competing for your visit.
Since there are so many RV parks in Texas, however, it often becomes difficult for people to pick out the best one. To save you time and effort, we've compiled a review of the best RV parks Texas has to offer. We considered everything from location to how they're suited for different demographics, to how well maintained the park is, and pretty much everything in between.
So, if you're looking for an RV park in Texas, read on…
Why Texas is Such a Great Place to RV
Texas, the largest state of the U.S. after Alaska, is a land with 300,000 square miles of diversity. From its iconic beaches to sandy deserts, from the majestic rolling hills to the thrashing rapids in the ravines, it is considered as one of the most ravishing places on Earth. It's also one of the best places to RV because: 
Ripe for Adventure Tourism
Texas is waiting for you to come and explore it. Discover beautiful Texas in your RV. The Lone Star State borders Mexico to its southwest, and on its east, the Gulf of Mexico. The state is ripe for adventure tourism, and RV parks provide just the kind of adventure you are looking for. 
Cost-Effective
When it comes to vacations, money always plays a huge role. When it comes to RV parks in Texas, money does not pose many problems. The biggest advantage of such parks are their affordable lodging costs. For an overnight stay in Texas parks, the cost varies from $25 to around $40 only. Apart from this, meal costs also allow you to save a bunch of money. Since your kitchen is with you at all times, you don't need to spend extra money on food.
Higher Diversity
RV parks usually range from rustic facilities with minimal utility hook-ups to high-end luxurious resorts, with amenities that can easily rival any fine hotel. Regardless, the mentioned RV parks are unique in their own way and are worthy of a visit. Some of these are near beautiful lakes, some are near bustling cities, and some are close to serene wilderness. Each offers different carnivals and festivals you can enjoy with your friends and family. It provides quality time with your family and a source of recharging leisure. 
Review of the Best RV Parks in Texas
To help you choose the best RV park, we have compiled a list of the best ones for you to visit. The ones mentioned here will certainly not only provide you with much-needed entertainment but will also be a relaxing holiday experience for you.
Fernbrook RV Park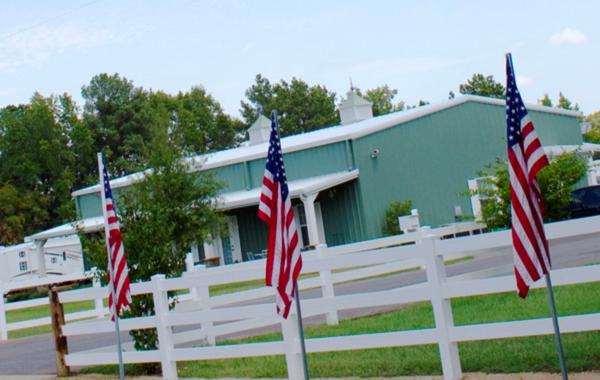 What we love
Big rig access
Kid-friendly and picnic shelter available
Internet and mobile networks are available
Full hook-ups, sewer, water, electric (30 & 50 amp)
No traffic noise, promising you a serene environment
Why This Park Stands Out to Us
Texas RV parks are a great way to blow off some steam in the summers. And your experience can be amplified if the park comes with all the latest amenities of modern-day life. Here is why this one stands out:
Location
This camp is centrally located between the East Texas Airport, Longview and Kilgore, and the interstate is only two or so miles to the North. Since the site is very accessible, it is very desirable. With many tourist attractions, and natural, historical, and cultural spots close by, the campsite is in the perfect spot to explore East Texas tourist destinations. While being in the close proximity of the interstate, the noise from traffic does not reach the park. The park offers over 100 manicured, oversized sites with a picturesque country setting. The sites can accommodate big rigs and multiple slide-outs.
Hospitality
The staff and owners were found to be very kind, helpful, and cooperative. They not only assist the guests in all their tasks, but they also go the extra mile into making your experience the best one so far.
High Maintenance
This RV is nestled on 35 beautiful acres in the historical community of Seatown. The pavement is in good condition, and people have praised the landscaping of the site, with tree shade nearly everywhere, ensuring your picnic experience will be absolutely beautiful. Convenience and serenity are the two strong points of Fernbrook RV Park, making it one of our top choices in Texas.
Fredericksburg RV Park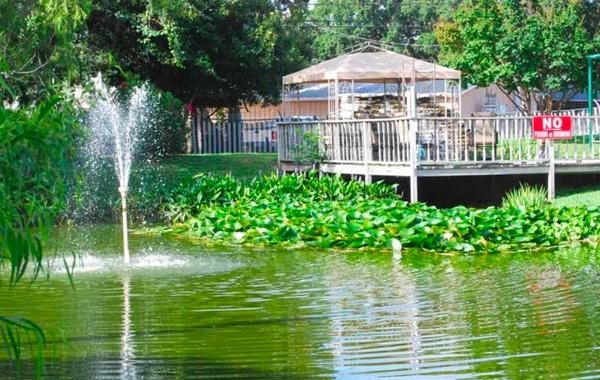 What we love
There is access for big rigs
Has pull-through campsites
Clubhouse is available
Pets are allowed and the park is kid-friendly
Located right in Fredericksburg, many local facilities are easily accessible
Why This Park Stands Out to Us
Greenery is often the most underrated part of an RV Park, but it shouldn't be. This park is known for its well maintained and lush greenery. The campsites are clean, and you can see enormous trees scattered around that provide you with much-needed shade. Here are some of its best features.
Lush Greenery
With so little greenery around us, it is always nice to see lush greenery in RV parks. Unlike in most parks, Frederiksberg Park is known for its green and clean environment. Each area of the campsite has a huge tree alongside that provides ample shade to you and your family. Furthermore, there is a small waterfall that has aquatic life. Numerous fish live inside the pond beside the waterfall.
Club House is a Major Attraction
People often get attracted to unique facilities when it comes to RV parks. Where most of them are similar in their infrastructure and facilities, Fredericksburg goes one step ahead and provides a clubhouse as a major attraction for all guests, whether locals or tourists. The clubhouse is very spacious and comes with the latest amenities.
Many Pull-Through Campsites
While visiting an RV Park in Texas, you should never worry about the space and availability of campsites. There are numerous pull-through campsites for you to enjoy. They not only provide a clean environment, but they also don't allow much sound to reach your ears. This ensures you can camp and enjoy in peace with your friends or family.
Oasis RV Resort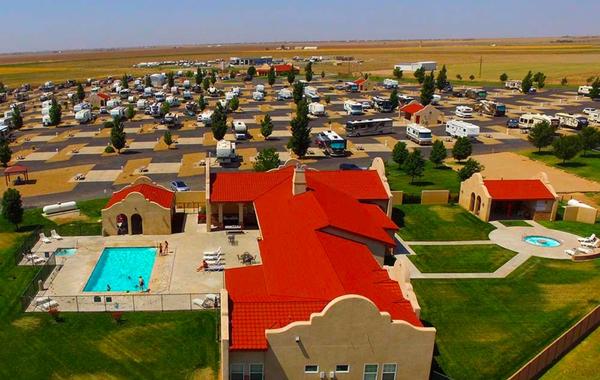 What we love
Kid-friendly and picnic shelter
Gym and workout facilities are available
Wi-Fi and cellphone network service available
Camp store and café/snack bar are also available
Full hook-up, sewer, and water, electric (30 & 50 amp)
Why This Park Stands Out to Us
RV parks in Texas are popular for being kid-friendly and the best things about this one are the enormous swimming pool and spacious gym. These two, combined with a friendly and hospitable staff, greatly enhance your experience at the park. Here is everything that makes it so great.
Good Facilities
With about 180 full-service RV campsites, Oasis RV Resort is Amarillo's largest RV park. The Oasis RV Resort is located close to Interstate 40. This spacious camp is fully equipped with many amenities and facilities. With finished asphalt along with gravel-laid campsites, the park lies in a place that has easy access to Amarillo. With facilities for old people, there is a play area for kids and a large dog run. Not only will your kids enjoy a stay at the Oasis TV resort, but your pets will have a great time, too.
Situated in a Peaceful Site
The resort is set in a serene and calm setting. This helps make it one of the best retreats. The surrounding environment is extremely peaceful and quiet. So, if you are someone who enjoys camping or sightseeing in peace, then you will absolutely love this place.
Kid-Friendly
A recurrent problem with most RV parks in Texas is that they don't cater to the needs of all individuals, but that's certainly not an issue with this one. The place is well-equipped with shops, a gym, and even playing areas. This not only makes it a great place for you to enjoy, but it also lets your kids have a great time alongside you.
Oak Creek RV Park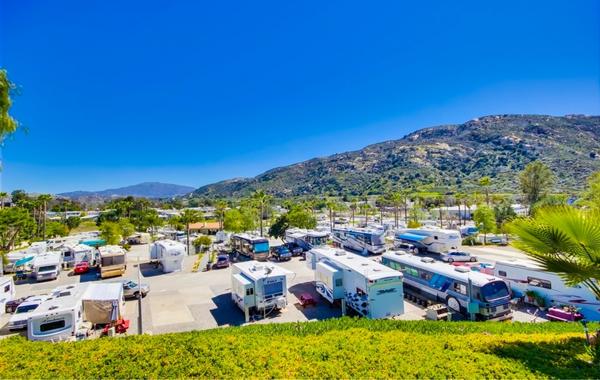 What we love
Pet areas for your pets
Recreational trails in the area
Clubhouse and group kitchen are available here
Dumping station and water spigot are also present
Equipped with facilities, including restrooms, showers, and laundry
Why it Stands Out to Us
Cost plays a huge role in deciding which Texas RV park is the best one for you. When you visit this one, you will be amazed to find out how affordable everything is. From renting cabins to using the gym, everything goes easy on your pocketbook. Here is why it's one of the best:
Breathtaking Sites
This RV Park is located at a beautiful location surrounded by a plethora of breathtaking places. This includes the majestic Chandler Gardens, as well as scenic lakes and wells. Moreover, it also includes the very famous National Vietnam War Museum.
Clean and Green Environment
With so much pollution around, people want places that are both clean and green. This RV Park is famous for its well-maintained lawns and grounds. There is a dedicated team of people who are solely responsible for keeping the place clean. So when visiting the place, you will be thoroughly impressed by the cleanliness around.
All Latest Amenities are Available
When we think of parks, we don't always imagine the modern facilities that can come with it. This one not only provides the absolute peace you are looking for, but it also comes with all the latest amenities of modern life. These include well-maintained restrooms, showers, and laundry. Not just that, it is also well equipped with Wi-Fi facilities.
Marina Bay RV Resort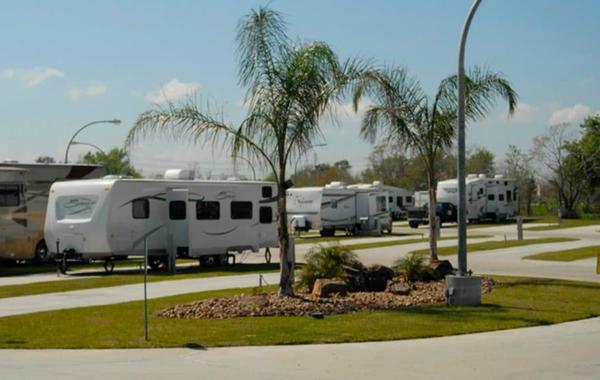 What we love
Pets are allowed
Provides cabins for staying in
Has a cellular mobile network and Wi-Fi available
Restrooms with showers and laundry facility also available
Hook-ups include electricity, sewer, water, and cable and satellite television
Why This Park Stands Out to Us
People are looking for newer and innovative ways to have fun. RV parks not only provide you with amazing and spacious campsites, but they also ensure that you have a calm and peaceful time. The staff is also hospitable and the environment is nice. Here are its most amazing features:
Serene Location
The location of this RV park is probably the biggest benefit of it. The Marina Bay RV Resort is located minutes away from the famous Kemah Boardwalk and is located amidst other tourist attractions, from a bustling city to serene and peaceful nature. There are some amazing water views nearby that not only add beauty to the place but also make it extremely peaceful and calm.
Fishing Facility
This is a truly unique experience that you will get out of visiting this famous RV park in Texas. Not only will you be able to enjoy the serene location and campsites, but you can also indulge in a truly fun-filled fishing activity. The tools needed for the experience are also provided, so you don't have to worry about them either. Moreover, the staff is hospitable, and they will accommodate you in this activity.
Ample Cabins to Stay in
People often want to stay in a comfortable and cozy cabins while visiting RV Parks in Texas. The Marina Park is known for having some of the most well-maintained cabins inside its vicinity. These come with all the latest facilities, like Wi-Fi and good phone signals. However, that is not the only good thing about these cabins. They are also extremely affordable, hence, anyone can rent them easily.
Amarillo KOA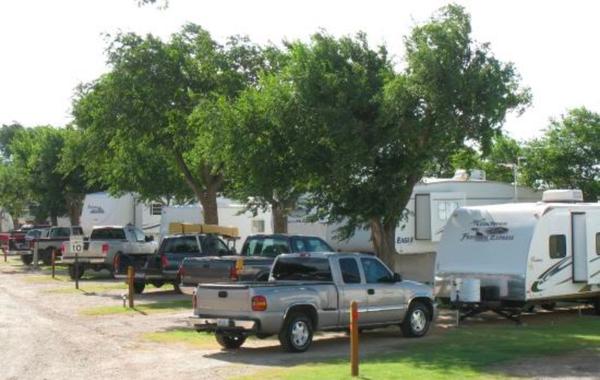 What we love
Provides cabins, cottages, and a tent-camping facility
Has pull-through campsites and big rigs can easily access it
Provides the opportunity to enjoy biking as a recreational activity
Has a pet area, pool access, playground, picnic shelter, and clubhouse
Firewood and propane are available, and Amarillo KOA and allows group camping
Why This Park Stands Out to Us
RV parks that excel in a cool environment often lack modern resources, but that's certainly not the case with this one. It has all the amenities, like free Wi-Fi and amazing signals. This, coupled with a clean environment, is best for a good vacation trip. This is why it stands out.
An Award-Winning Campground
When we say the campground of this Texas RV park is award-winning, we mean it quite literally. It is not only surrounded by ample greenery, but it is also very well maintained. Moreover, it gives a very friendly environment for you and your kids. The surrounding is perfectly quiet and hence, provides you a peaceful place to camp in. The place is family-friendly too, which means that you don't have to worry about unnecessary intrusions on your intimate moments.
Gift Stores
This is a unique feature of this RV park. Unlike most others, Amarillo not only sticks to providing you the basic amenities, but it goes one step ahead and adds small, yet beautiful gift shops inside its grounds. These shops not only have some very unique products but they are also super-cheap. You can get handmade jewelry and other products from these shops at the lowest rates.
Playground and Picnic Shelter
When we said the Amarillo is kid-friendly, we meant it. It comes with a large playground that has many swings. Your kids can come here, make friends, and enjoy a cool and comfortable environment. Whilst they are busy enjoying the swings, you can make use of the picnic shelters available in the surrounding. You can also ready the food so that when your kids are done with playing, you can put a smile on their faces by offering them their favorite foods.
The Vineyard at Fredericksburg RV Park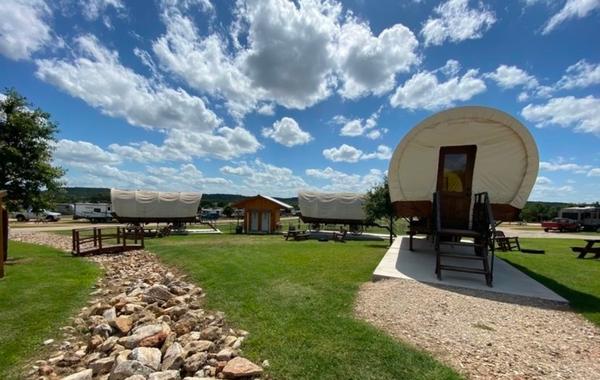 What we love
Pet area is also available
Campsite has gravel as its surface
Gym and workout facilities are provided
Picnic shelter, firewood, and cabin/cottage are available
Contains bathrooms with showers and there is a laundry service also available
Why This Park Stands Out to Us
Sports enthusiasts often complain about the lack of facilities that exist in not just Texas RV Parks, but around the country. Here we have one of the best soccer grounds for you all. There are also numerous campsites you can sit in and enjoy, read ahead to find out more about it.
Beautiful German Architecture
With German architecture, cuisine, and scenic beauty as tourist attractions of the Texas hill country town of Fredericksburg, the Vineyard at Fredericksburg RV Park serves as an important campground to access these tourist attractions. The ravishing architecture is very different and unique to what you see every day. It is also well maintained, which further adds to the beauty and appeal of the sites.
Attractive Amenities
If you thought that beautiful architecture is the only good thing about these parks, then you are certainly wrong. The lush and grand amenities are also there to make your trip worth your money. Inside the park are great swimming pools that allow you and your kids to take a soothing bath. To top all of this, Wi-Fi and phone signals are also available, allowing you to stay in touch with the outside world while enjoying your time at the camp.
Gym and Sport Facilities
Soccer facilities and an amazing gym are also two other prime attractions of this RV Park. Sports enthusiasts, particularly boys, enjoy coming to these sites with their friends for a fun evening. After an enjoyable soccer session, they can head to the pool and blow off some steam.
Yogi Bear's Jellystone Park Camp-Resort: Guadalupe River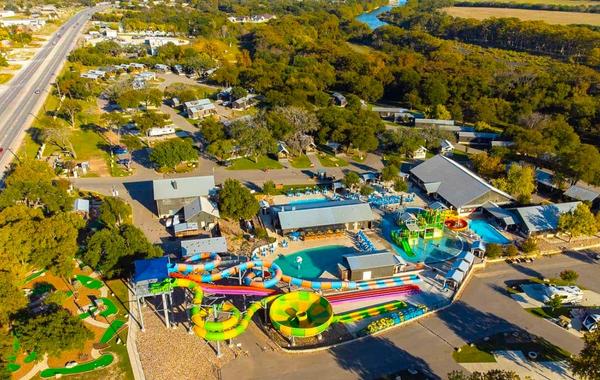 What we love
Pets are allowed
Has pull-through campsites available
Cabins and cottages are also present
Open all-year-round with summers as its peak season
Amenities include showers, restrooms, laundry, clubhouse, and camp store
Why This Park Stands Out to Us
Most pet owners are extremely fond of taking their pets while visiting RV Parks in Texas. It not only allows pets but also has large playgrounds where your kids and pets can have a great time. The camping grounds are spacious, which further adds to their appeal.Open All-Year-Round
The best thing about this RV park is that unlike most others, it is open all-year-round. This means the facilities available inside will facilitate you in every season, whether it is the hot summers or the festive winters. Moreover, you can choose to visit it in its peak season, which is the summer, or if you want some quiet, you can even visit the place in winter for a more peaceful experience.
Pets are Allowed
A lot of people get really offended or even sad when their precious pets are not allowed into certain parks. Since man people treat their pets like family, it is very hard for them to leave their furry friends at home while they visit RV parks. Keeping this in mind, Yogi Bear's Park allows your pets to accompany you. Not just that, it has special fun places inside where your pets can enjoy playing with your kids.
Ample Cabins Available
There are numerous cabins and rooms available inside the park for you to rent and stay in. These are well-equipped with all kinds of facilities like good Wi-Fi and phone signals. Not just that, but the rooms are also spacious and cheap, so if you are looking to have a good trip with your family on a budget, then this place is definitely for you.
Grand Texas RV Resort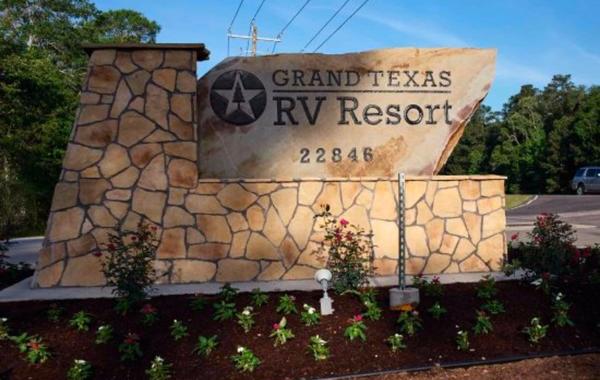 What we love
Close to the interstate
You can access the park using big rigs
Propane is available
Pets are allowed and the place is kid-friendly
Campsite's surface is finished with a concrete pad and a patio is offered
Why This Park Stands Out to Us
Texas RV Parks have gained popularity and for obvious reasons. This one is not only extremely affordable, but also features a pet and kid-friendly environment inside. Here are other reasons that make it a great place:
Ample Campsites
If you are looking to avoid congested places or parks, then the Grand Texas RV resort is definitely the place for you. It is near Big Rivers Water Park and is home to more than 100 campsites. These are very spacious and provide a clean and green environment for all the guests. Moreover, these campsites are kid-friendly, so you can enjoy all you want with your kids and your pets.
Friendly Staff
When it comes to RV parks, having a friendly and hospitable staff is very important. They not only greatly affect your experience, but they also play an important role in guiding you about the various amenities around. The Grand Texas is popular for having an amazing and efficient staff that accommodates and helps you during your whole trip.
Smooth Camp Surface
We talked about the ample campsites that exist in Grand Texas Park, but you might wonder whether or not these campsites are well maintained. The answer to this can be found in the numerous amazing reviews that people have written for the park, praising its smooth concrete pavements and a clean environment. The campsites provide a flat surface for you and your kids to play in.
Northlake Village RV Park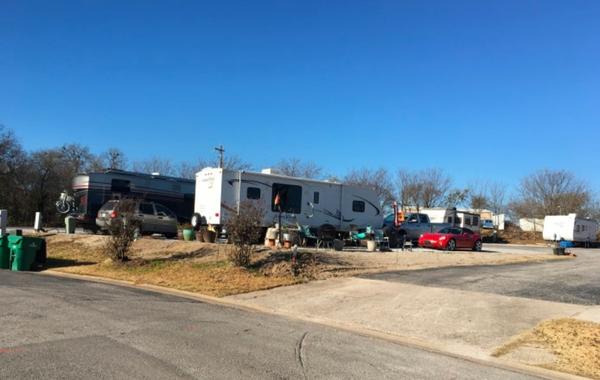 What we love
You can group-camp here
Kid-friendly and pets are allowed
Pool and gym facility also provided
All cellular and Wi-Fi connectivity available
Hook-ups include 30 and 50-amp electric outlets, sewers, and clean water
Why This Park Stands Out to Us
There is no denying that vacationing is becoming increasingly expensive with each passing day. In the middle of this chaos, this park acts as the perfect entertainment extravaganza. Here, you can enjoy a luxurious treatment at an affordable price.
Spacious Land
While planning a trip to an RV park in Texas, people often evaluate whether it is spacious or not first. Northlake Village RV Park is known for being the most spacious park in Texas. It is situated near the famous city of Dallas. Not just that, but it is also surrounded by many natural tourist attractions, as well as some breathtaking natural lakes.
Festivals and Events
One might view this feature with bewilderment because not many parks hold major fun festivals. But the North Village RV Park is certainly different. It is known for holding some of the most entertaining and fun-filled events and festivals in its beautiful location. People from all around come and visit during these festivals. If you like the hustle and bustle around you, then the best time to visit this park would be at the time of these festivals.
Amazing Pools
Pools are another amazing part of this RV Park. These pools are many in number, and hence, everyone can enjoy taking a dip in the pool. The environment is kid-friendly, hence, you can enjoy camping and swimming with your kids easily. Moreover, after a fun-filled session at the pool, you can also head to the gym to burn some calories.
Karstens RV Resort
What we love
Great place for BBQ
Pet friendly
Basketball Court
Playground is great for children
Complementary Direct TV for RV Park
Why This Park Stands Out to Us
This RV Resort is designed for both residents and visitors, boasts a full-scale, on-site laundry facility, ensuring convenience and comfort. Its strategic location in a tranquil part of the town provides guests with a peaceful retreat, while still being conveniently close to Historic Downtown Bryan and Texas A&M University. This blend of serenity and accessibility makes Karstens RV Resort a standout choice for those seeking a calm yet connected stay in College Station.
Pet Friendly
Karstens RV Resort in Bryan/College Station stands out for its exceptional pet-friendly amenities, offering an ideal retreat for guests and their furry companions. The resort features a dedicated dog run where pets can roam and play freely, ensuring they have ample space to exercise and enjoy the outdoors.
Excellent Service
The RV resort is renowned for its extensive range of services that cater to the convenience and enjoyment of its guests. The resort offers full-service hookups with 20/30/50 Amp service, ensuring all RV needs are met. The resort also features a dump station for RV maintenance. For connectivity, guests benefit from complimentary Direct TV and WiFi services.
Excellent Location
Karstens RV Resort is perfectly situated to explore a variety of nearby attractions, making it an ideal base for both adventure and culture enthusiasts. Guests can immerse themselves in the wonders of the natural world at Aggieland Safari and Franklin Drive-Thru Safari, and the Texas Brazos Valley Children's Museum and the Texas Brazos Valley Museum of Natural History offer fascinating insights into science, history, and culture.
RV Parks in Texas – Some of The Best in the Country
RV parks in Texas have gained massive popularity in recent years and rightfully so, too. They provide a homely environment to everyone who is looking for a short relaxing vacation. Spending a day or two at these affordable parks allows you to see numerous lakes, monumental locations, and also pay homage to the surrounding tourist attractions.
Moreover, they are not only extremely spacious, but they also provide you with a lot of amenities. With free Wi-Fi facilities, large pools, gym areas, and soccer grounds, there is hardly anyone who will say no to a fun-filled day at the best RV park in Texas.
Other RV Parks Guides
Here are a few other related guides to set you in the right direction: