Unlocking the Secrets of Trailer Tires
Whether you own a trailer for family trips or have a towing business, you know the importance of having quality tires, and there's no question that the best trailer tires make a world of difference.
They not only make the entire drive smoother but also ensure safety for you and those driving around you. It is, however, a confusing procedure to buy them since there are so many out there.
What should you look for when getting the best tires for your travel trailer? Aren't all American brands a safe choice? 
There are many things to look for when shopping for the best trailer tires, so to help you narrow down your choices and make a wise decision, we have compiled a comprehensive review of the best ones on the market.
We've also included buyer's guide we look at the different types of tires and compare the different brands. We also look at the different price entries and what you should expect, as with tires its essential you don't undercut your safety
We've also included an FAQ section about trailer tires, so by the end of the article, you'll have a much better understanding of what to look for.
If you prefer, you can jump straight to the Travel Trailer Tires Buyer's Guide by clicking the link…
Characteristics of Our Top Picks
Keeping your trailer updated and running smoothly could make you traveling experience better. All of the reviewed products are great for one reason or another. They will ensure a smoother, safer drive for you and the drivers around you. Here are some aspects that will be vital when purchasing new trailer tires for your RV. 
Versatility
The products we talk about are adaptable to many environments and work under different weather conditions. This translates to the fact that your trailer will be able to travel smoothly despite the weather condition.
Durability
Trailer tires can be expensive and therefore, should be durable. All the products we talk about are made with great quality materials and therefore, will last a good amount of time.
Compatibility
Your trailer tire should be compatible with famous trailer brands. All the products on our list are compatible with famous brands such as Big Tex, Carry On, etc.
Sidewall Pressure
It is important for a trailer tire to be able to handle maximum pressure. If you invest in a low-quality tire, it will fold during traveling, which is an unpleasant experience. All of the reviewed products have incredible sidewall strength.
Type
Previously, we have discussed the types of RV tires. These types have their own pros and cons and those differ according to your intended use. So, familiarize yourself with all the types before settling on one.
Weight and Size
This is the most important factor to consider before investing in this product. You need to be aware of whether the tires you plan on investing in are capable of supporting your trailer's weight when it is completely loaded. This is not a factor you would want to ignore.
Longevity
Nobody enjoys having to invest in new RV tires because your old ones folded or wore out just after a little use. Therefore, the solution to avoiding this situation is investing in tires of great quality, which last longer. This could save you money and precious time in the long term.
Review of the Best Trailer Tires
Here are our top picks for trailer tires. We have categorized our picks for your ease of reading. All of these RV tires are good for one reason or another. We have discussed in detail all there is to know about them.
Goodyear Endurance All-Season Tire
Review
Goodyear has one of the best reputations around when it comes to tires, and these trailer tires don't disappoint. These tires were specifically designed for use on trailers, featuring a strong tire tread grip pattern, and are rated for loads up to 1,000 pounds. That means they can handle recreational to light commercial use with ease.
They utilize fabric-steel construction and DuraWall Technology for a long tread life that stands up to tough conditions and resists punctures and tears. For the price, these tires are tough to beat. They're not the cheapest tires on the market, but they're a quality trailer tire that's a noticeable step up from cheap trailer tires. These tires will keep your trailer on the road much longer. 
Bottom Line
Goodyear's reputation precedes. it at this point, and this is a solid trailer tire at a more-than-fair price point. It's suitable for almost all recreational use and will handle light commercial or agricultural tasks. The tires are built to last, meaning you can depend on them for many trips to come. One of the best travel trailer tires we can recommend for general use for a cargo trailer.
Grand Ride Set of 4 Trailer Tires ST 225/75R15 10PR Load Range E
Review
This is an excellent quality tire which is bound to get the appreciation it deserves. It has made it to our runner-up category and for a good reason. Not only does it look great, but it has excellent performance and is built with superior quality materials too.This is a radial-type tire, which is the norm these days. This means it will likely work for a larger audience.
Safety and protection are obviously everyone's first concerns and this trailer tire provides you with both. It has a nylon overlay which encloses the entire tread area for added protection, whereas other products on the market only have nylon strips on the shoulder area. Thus, it is a significantly updated design and has extra safety measures for your trailer.
Furthermore, these radial tires are not rough to drive at all. They ensure a smooth driving experience as they have a firm grip on the road. These will not sway either.The best part about this product, apart from all of its amazing features, is definitely that it comes in a pack of four tires. This is such a great deal and will prove to be an excellent investment.
Bottom Line
This is an excellent product if you're a trailer owner. You will not regret this investment, given that it is not only made of superior quality material but also has added safety measures and ensures a smooth drive. Overall, it is a total package.
Carlisle Sport Trail LH Bias Trailer Tire- 5 30- 12 LRB
Review
This product has made it to our best trailer tires for the money category. It is a great investment for good reasons. Carlisle is a top-notch brand and is one of the very best out there. Since this is a budget product, it definitely deserves a mention in our top picks.If you're looking for a tire with bias ply construction, then this one by Carlisle is a great pick.
This product is greatly popular amongst audiences for its high-quality performance and versatility. It will fit different forms of trailers and cargoes.It is compatible with boat trailers and cargo and utility trailers from all the big famous brands like Alumacraft, Crestliner, Continental, Big Tex, and Carry On, Miska, etc.
You will not have any problems working with this product as it is capable of great performance. It comes in different sizes so you can choose whichever suits your trailer best.Moreover, this tire works great on wet roads, as well as dry roads. It has been constructed to be sturdy and strong, so it can handle a great load and drive easily on rough terrains. It also has great traction, therefore, it is an excellent investment.
Bottom LineOverall, this product is a great investment. It is not only great quality but yields excellent performance, too. It can easily be driven on rough terrains. It is safe to say, Carlisle has surely made another excellent product.
Michelin XPS Rib Truck Radial Tire 225/75R16 115R
Review
This product has made it to our top picks and, in our opinion, is the best tire by Michelin. It has been praised by people for its excellent quality, performance, and endurance. It, unfortunately, does not get the attention it deserves. However, once it is used, drivers usually are hooked.
This tire was engineered to perform exceptionally well on both wet and dry terrain. It is supposed to give easy handling while supporting heavier loads and it delivers everything it promises. It is catered towards medium and heavy trucks or trailers. The worst part about a trailer tire is if it makes too much noise.
This product, however, is not only comfortable to drive but is also exceptionally quiet.It has steel cased and steel reinforced bead which makes it capable of handling any amount of heavy loads. It has a tread design which increases traction and gives stability to the trailer. Moreover, it has a firm grip on the road and gives enhanced steering response.
This tire is well-suited to work not only on dry but wet tracks as well. It is rare for a tire with radial construction to handle rough terrains as well as this one does.
Bottom Line
This is a great product. Even though it has radial construction, it provides great traction and handling in wet and dry weather. It is rare for tires with radial construction to be able to handle such heavy loads, which this one does with great ease.
Wheels Express 15'' Silver Mod Trailer Wheel with Radial ST305/75R15 Tire Mounted
Review
This is another great product from Wheel Express. Their brand is one of the top manufacturing brands in the tire business and this product surely proves to be a great investment. Not only does the tire perform exceedingly well, but it also is highly durable. It has, therefore, made it to our top picksIt only works with trailers and not trucks or vans.
This is a downside to this product. However, performance and quality are not questionable. It is durable, due to the fact that it has polyester cords and steel belts. These provide it with great strength and make it highly reliable for various jobs. You can easily use it to tow.
Moreover, it has radial construction, which means it won't sway from the road and will maintain a firm grip. It provides a smooth driving experience and has a wheel made of steel with a great design which prevents it from corrosion.
Bottom Line
This is a great product to invest in by Wheel Express and you will surely not be disappointed by it. It performs well, is highly durable, and will give you a smooth driving experience. It has a trailer construction, which is usually what people want these days.
Maxxis M8008 St Radial Trailer Tire 225/75R15 BSW
Review
Introducing a game-changing innovation in the world of tires, our top pick is the Maxxis Travel Trailer Tire – a premium offering from the renowned tire brand, Maxxis. Known for their outstanding reputation in manufacturing high-quality tires, this product is no exception.
Equipped with radial construction, the Maxxis Travel Trailer Tire not only boasts exceptional durability but also ensures a stable and sway-free drive. Its firm grip on the road and unparalleled smoothness make for a superior driving experience. Additionally, the double steel belt construction further enhances its stability and strength.
Exceptional handling and precise steering control are also hallmarks of this tire. Its high durability ensures that it will serve you well for years to come. One standout feature is its impressive shock absorbance, enabling easy handling of heavy loads, making it a true pleasure to use.
Among its many remarkable features, our favorite is the low fuel consumption. Thanks to its advanced tread compound, this tire offers reduced rolling resistance, translating to more efficient fuel consumption.
Bottom Line
The Maxxis Travel Trailer Tire is a wise investment for those seeking top-tier performance and durability. This shock-absorbent tire guarantees a smooth driving experience, though it comes with a higher price tag. However, for those who can afford it, the benefits of this exceptional tire make it well worth the investment.
Cooper Discoverer A/T3 XLT All-Terrain Radial Tire-LT285 /75R16 126R 10-ply
Review
Cooper stands among the top tire brands in the industry, and their exceptional trailer tire has earned a place as our top pick for the best offering from Cooper. Boasting radial construction, this tire delivers high durability and a smooth performance, with an impressive manufacturer's mileage warranty of 60,000 miles, ensuring it's a long-term investment that won't disappoint.
The radial design of this tire ensures a comfortable driving experience, offering excellent road grip and stability without swaying. Remarkably, it performs well on various terrains, which is uncommon for radial tires.
Typically, tires with radial construction struggle on rough terrains and exhibit signs of wear quickly. However, this Cooper tire defies expectations, thanks to its Durable-Tread technology. The ultra-durable compound and rugged all-terrain tread design reinforce the tire's strength against gravel and dirt.
Additionally, the tire incorporates adaptive traction technology, utilizing a silica-based compound that adapts to diverse weather conditions, be it hot or cold, wet or dry. Its versatility makes it a reliable performer under any circumstances.
Bottom Line
This Cooper tire is an outstanding choice for those with the budget to invest. Its high durability, adaptability to various weather conditions, and suitability for heavy cargo and rough terrains make it a worthwhile addition to your vehicle.
Freestar M-108
What Recent Buyers Report
Numerous recent buyers have expressed their satisfaction with the tire's performance, particularly for heavy-duty vehicles. They report excellent performance on rough ranch roads and commend the product's affordability.
What Sets It Apart
The Freestar M-108 boasts several outstanding features that make it a valuable addition to any vehicle. Its durable rubber compound ensures longevity, even under challenging conditions. Furthermore, it has a respectable load rating, enabling it to support heavier loads. These attributes, combined with its budget-friendly price, make it a worthwhile investment.
Bottom Line
In summary, the Freestar M-108 is an affordable option for RV owners who frequently travel. Its groove design effectively repels water and maintains performance on heated roads. The tire's easy installation process adds to its user-friendly appeal. Overall, it's an excellent choice for those seeking a reliable and cost-effective tire solution.
Mastertrack UN-ALL STEEL
What Recent Buyers Report
Many RV owners have found this product to be long-lasting and reliable. Those who installed these tires are delighted with their purchase, primarily due to the peace of mind provided by the all-season capabilities. Users were particularly impressed with the ability to re-groove the tires, which extends their lifespan and usability.
What Sets It Apart
We believe this product stands out due to its resilience, as evidenced by features such as water resistance and mud and snow ratings. Consequently, you won't need to invest in separate tires for different seasons and terrains.
Additionally, these tires offer excellent value for money, thanks to their unique re-groove design. By re-grooving them, you can ensure that even significant wear and tear doesn't undermine your investment.
Bottom Line
To sum up, these Mastertrack 14 ply trailer tires are designed to support heavy loads under challenging conditions. The positive feedback regarding the premium features speaks volumes about the quality on offer. This tire is highly recommended for those seeking a durable and long-lasting option.
WE 14-2B Trailer 14'' Trailer Wheel with Bias ST205/75D14 Tire
Review
This product is our number one pick and for a good reason. Whether you are talking about build quality or performance, it tops it all. This product has an excellent design which gives it a firm grip on the road, which, in turn, promises a safe driving experience.
It may not be for everyone, given that it is a bias-type trailer tire. However, that does not make it any less reliable. It has stiffer sidewalls, which mean that it is a little rougher to drive. Due to this very same reason, it will not sway from the road and imparts a sense of protection.
Moreover, radial tires are not built to be driven on rough roads, which this particular product is great for. Rough terrain is tricky to drive on. It is already dangerous and the right tires make driving smoother, especially with a vehicle as large as a trailer. So if you are someone who goes on spontaneous trips to areas with rough and uneven roads, this will be a great option for you.
This tire is able to carry heavy loads and has the tire weight rating of 1,760 lbs. However, what we like best is that it is compatible with all popular boat, utility, and cargo trailer brands like Alumacraft, Continental, Crestliner, Karavan, Big-Tex, Carry On, Miska, Performance Trailers, Mako, etc. Therefore, you need not worry about not being able to find the right size and fit of this tire.
Bottom Line
This product, all in all, is a great investment. The pros largely outweigh the cons and one could not complain about this product. This is hands-down, truly one of the best bias trailer tires out there.
Buyer's Guide
Now it's time to look more into travel trailer tyres. In this buyer's guide we look at the different types of tires and compare the different brands. We also look at the price entries, because you do get what you pay for and with safety being our main concern, it's important to know what you're getting in general.
We've also included a comprehensive FAQ section dedicated to all things travel trailer tires, so by the end of the article, you'll have a much better understanding of what to look for.
Types of Trailer Tires
You might not have known this before, but trailer tires are broadly classified into two types. Knowing about these types could help you make a better decision when buying. The major difference between the two types is in the positioning of the cord inside them. Radial tires are more widely used nowadays.
Bias Ply Tires
The nylon and steel cord is at a 30-degree angle in bias ply tires. Some people may prefer this kind as it has stronger sidewalls due to its cross hatch construction. These may not be the choice for normal trailer use, though. These are more for cargo transport and rough usage since they have a higher rolling resistance. These are, however, less expensive than their radial counterparts.
Photo credit: usautoauthority.com
Radial Tires
These are the ones to invest in for normal trailer use. The steel plies actually run at a 90-degree angle across the tires. They have a tough and sturdy overall construction as they use steel belts. They have a longer life and leave a large footprint. Furthermore, these consume less fuel.
Top Brands in the Trailer Tires Space
Tires, like most automobile parts, have established brands and less reputable brands. In this section, we're focusing on our 3 favorite trailer tire brands that you can trust. Here's more about each: 
Goodyear
Goodyear is not only one of the biggest names in trailer tires, but one of the biggest names in all tires. If you want an example of a quality Goodyear trailer tire, simply refer to our list above. The American tire giant is over 120 years old at this point, and its reputation has always been for quality tires at fair prices.
Goodyear takes this vast experience and applies it to their lineup of tires. It makes an excellent horse trailer, utility trailer, and boat trailer tire, just to name a few, and might be the right tire for your travel trailer.
Trailer King
Trailer King is notable because it specializes in trailer tires, unlike many other tire brands. Trailer King's priority is utility trailer tires, and it's built a dependable brand that offers high-quality at fair prices. Trailer King has a comprehensive lineup of tires suitable for light trailers as well as heavy load rating options for heavy-duty applications.
Trailer King is an American company that has been making tires for over fifty years. It is a subsidiary of TBC Brands, which offers a more extensive lineup of tires for commercial, agricultural, and specialty purposes.     
Carlisle
Headquartered in Scottsdale, AZ, Carlisle recently celebrated its 100th year in business. It markets a wide range of products for niche applications, with trailer tires being among its best-selling product lines. It has an extensive lineup that covers everything from boat trailer tires to horse trailer tires to heavy-duty commercial applications. Carlisle's mission is to provide "advanced technology that offers protection and durability for both work and play".  
Price Points of Trailer Tires
Tires can range in price quite considerably, and trailer tires are no exception. In this section, we're examining the typical "range" of prices you can expect for this product category and let you know whether it's worth it to pay more. 
Important Note: Before getting to our tiered list, there are a few caveats worth mentioning. More money doesn't always mean higher quality. It might be the case that more expensive tires simply net you bigger tires or tires that are capable of towing higher loads.
You will probably need to spend more if your towing needs are extensive. Additionally, you might also be paying for the brand name alone. That said, here's what you can generally expect to pay:  
$50-$80 – Cheap
Trailer tires that cost $50-$80 are about as cheap as they come. They will likely be smaller tires not rated for carrying heavy loads. You won't be purchasing tires that you can expect to last for years. That said, tires need to meet a minimum legal standard, so any tires you purchase will be of somewhat acceptable quality. 
$80-$150 – Average
Tires in this price range are a noticeable step-up. They are generally rated for heavier loads and have more advanced grip patterns for better traction. This range is also where you'd expect to find tires from reputable brand names (such as the ones we mentioned above). 
$150+ – Premium
Premium trailer tires mean that the tires are suitable for heavy jobs. If you have a serious trailer load (livestock, hauling vehicles, etc.), then you need heavy-duty trailer tires. These tires are big and have advanced grip patterns for long-lasting use. They can cost well above $150 at the high end. 
Are Trailer Tires Universal?
Trailer tires are available in different sizes, depending on their compatibility with the vehicle. Some vehicles require smaller tires, whereas others require much bigger ones. This all depends upon the design of the vehicle and the purpose it is supposed to serve.
Tires are divided into two main groups, 12-inch and smaller, and 13-inch and larger. The former has sizes written in a two-number format, depending on what the size is. On the other hand, the latter is listed as three numbers. 
Different numbers have different meanings. Some sizes begin with ST, which stands for a special trailer and indicates that it is to be used on a trailer or an RV only. So, compatibility and size of tires make them specific to certain vehicles and not universal.
Comparison Overview
As you drive on the road, you can see various types of vehicles. From cars and motorcycles to trailers and trucks, each vehicle requires a specific tire size. Below are a few comparisons among different tire types.
Bias Ply vs. Radial Trailer Tires
Radial models have plies made of steel that run perpendicular across the tire and the belts, going below the tread around the circumference. Meanwhile, Bias-ply ones have their plies going across at a 30⁰ angle.
Radial tires tend to be more expensive than bias-ply models, but the former's performance is superior. Driving a trailer becomes much more smooth, and the vehicle doesn't bounce as much. Besides, radial tires have a longer lifespan than bias-ply tires.
Trailer Tires vs. Car Tires
Cars are used for frequent and high-speed traveling, whereas trailers are often used as a towing or a slower-speed vehicle. This is why the design of tires for both these vehicles are different.
Car tires are made to handle more traction on turns and slippery tracks. They have a thick tread, which helps in doing so. On the other hand, trailer tires have thicker outer walls to handle any object which comes towards them.
Trailer Tires vs. Truck Tires
We have discussed the design of a trailer tire and how it is made to suit a trailer. Let's now compare it to a truck tire. A truck tire is stronger than a trailer tire and is made for a much rougher drive and longer distances.
It is designed to carry heavier loads. The sidewalls are taller than a trailer tire to accommodate heavy loads. 
Trailer Tires vs. Passenger Tires
Passenger tires are similar to car tires in terms of design. They are used primarily for personal purposes and are fitted in daily-use vehicles like hatchback, coupes, and crossovers. Driving on slippery tracks or on sharp turns is suitable with a trailer tire.
As far as trailer tires are concerned, these are designed to be on a trailing vehicle. They are made to support any object on the road projected towards them, as already mentioned above.
Maxxis vs. Carlisle Trailer Tires
These are two popular tire manufacturers. Let's compare the two.
Carlisle
A classic tire manufacturing firm was founded in Carlisle, Pennsylvania, back in 1917. They are famous for their tires and wheels, specifically for trailers, farming, and gardening equipment. Their most known product is the Carlisle Radial Trail HD Trailer Tires.
Maxxis
Founded in 1967, Maxxis started its manufacturing with bicycle tires in Taiwan. Since then, they have expanded rapidly and now produce tires and other products for almost every vehicle. Their best-known trailer tire is the Maxxis Radial Trailer Tire. 
8-Ply vs. 10-Ply Trailer Tires
A ply rating is used to express the capacity of the strength of a tire. Different ratings are depending on the type and quality. The tire to be selected for a trailer depends on what the usage will be. 
The condition of different tracks of the regular route will help in choosing a suitable tire. An eight-ply tire is good enough for a regular trailer traveling. Meanwhile, a 10-ply rated model is suitable for off-roading with heavy loads.
10-Ply vs. 14-Ply Trailer Tires
As mentioned before, the higher the ply rating of a tire, the higher it's capacity to bear heavier loads. So, 14-ply trailer tires are better in managing load than a 10-ply tire. 
A 10-ply tire can handle up to 1,520 lbs at 80 psi, whereas a 14-ply tire can bear around 4080 lbs at 110 psi.
People Also Ask – Best Trailer Tires FAQs
Since purchasing a tire trailer is a difficult task and is a big investment as well, people generally have some common questions. Here are the answers to questions trailer owners often have when they go to purchase a tire.
Are Radial Tires Better for Trailers?
Generally speaking, yes. Radial tires are made by overlapping polyester cords, and with steel mesh belts for extra strength. In simplest terms, radial tires are smoother, stronger, and more reliable than their main alternative – bias-ply tires. Radial tires perform better in almost every category except (you guessed it) price!
What is the Difference Between D and R Trailer Tires?
Similar to the question directly above, D indicates a bias-ply tire, while R indicates a radial tire. The difference is in the construction, with a radial tire tending to offer a tread design with better contact, more traction, and higher stability. In other words, unless you already have three bias-ply tires on your trailer, radial tires are almost always preferred. Once again, also note that radial tires tend to cost more.
What PSI Should Trailer Tires Be?
Generally speaking, you want trailer tires to be near-maximum-rated pressure. Aim for between 50 to 65 psi, unless there are specific instructions on your tires that state otherwise. This information should be on the sidewall.
The higher the pressure, the higher the load capacity. And since trailers are designed for heavy loads, you'll want to keep them well-inflated. 
What Does the D Stand for on Trailer Tires?
The D on trailer tires indicates that they are bias-ply tires. Bias-ply have cords that run at a 32-degree angle to the direction they are traveling. This design is in contrast with radial ply tires, which run at a 90-degree angle. As per our answer above, radial tires are preferable to bias-ply but also cost more.
Are Wider Trailer Tires Better?
It depends. Wider tires tend to offer more stability and reduce trailer sway. The important caveat is that you need to make sure your trailer can have wider tires installed. Load capacity, which indicates how much the tire is rated to haul, is more important than width.  
How Long Do Trailer Tires Last?
Of course, the answer is it depends. It depends on the tires you buy, it depends on how often you use them, it depends on how well you take care of them, and it depends on the loads you are hauling. That said, with proper care, maintenance, and regular use, you can expect a good trailer tire to last around five years, with variability at each end. 
Why Aren't Trailer Tires Balanced?
Trailer tires often are not balanced because it's not as necessary to balance these tires. The tires in your car are balanced because they need to safely take turns and keep your car moving in a predictable direction. Trailer tires only need to support a load and rely on the towing vehicle to determine their direction. That is not to say that you can't balance trailer tires or that they shouldn't be somewhat balanced, just that it isn't as imperative as balancing a passenger car.
How Much Are Trailer Tires?
The price of these depends on various factors. There are several options available on the market for you to choose from. The average tire costs anywhere between $150 and $200. Some premium models also go as high as $300. On the other hand, affordable products can be purchased at $60-$70.
Should You Balance Trailer Tires?
Trailer tires are mainly designed to withhold the vertical load, rather than providing extra grip on sharp turns. Therefore, they do not need to be balanced particularly, but it is advised to do so for an optimal and safe experience.
Why Do Trailer Tires Blow Out?
Reports of tire blowouts are quite common, and it happens because of a number of reasons. Firstly, they blow out due to a lack of appropriate inflation. The second-most common reason is the overloading of the vehicle. This puts extra pressure on the tires, which causes heat to build up inside the tire, ultimately leading to a blowout.
What is Load Range C on Trailer Tires?
The load range can be described as the capacity or the psi rating of a tire. So, if a tire indicates load range C, it means it can carry up to 1820 lbs at 90 psi. In the case of a single-axle trailer, this indicates that both tires can carry a combined weight of 3640 lbs.
What Are Load Ranges For D and E Trailer Tires?
There are multiple types of load ranges. So, a load range D means a tire has a capacity of 1,220 lbs at 65 psi, whereas the load range E can carry up to 1,520 lbs at 80 psi.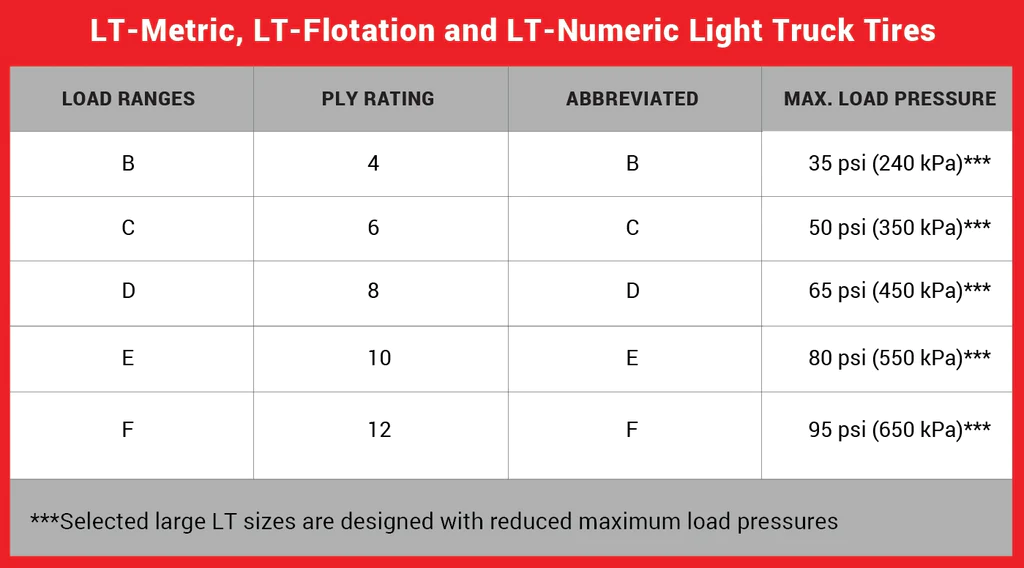 Are Trailer Tires Different From Car Tires?
Yes, trailer tires are largely different from car tires. Trailer tires have a more rigid sidewall so they can prevent sway, whereas car tires are more flexible for a comfortable ride. Trailer tires have bias ply and radial construction whereas car tires are mostly radial only.
What Do The Numbers on Trailer Tires Mean?
The numbers indicate important information like the max load capacity, tire size, etc., all of which you must consider before investing in a tire.
What Are ST Trailer Tires?
ST stands for special trailer tires. These are tires which can handle heavier loads and are built for utility trucks and cargo transport. They have a thicker sidewall which aids in doing this.
How to Keep Trailer Tires From Dry Rotting
Dry rotting can be a result of lack of use, storage near a heat source, and low inflation. All of this contributes majorly to dry rotting. A simple way to prevent this is to keep them updated, maintained, away from extreme climatic conditions, and are checked at least once a month.
How Long Are Trailer Tires Good For?
This actually depends upon your usage, whether you use your trailer often or just on weekends or even less. Furthermore, it also depends on the conditions you use it in. For instance, if you use it in harsh weather conditions and rough terrains, you will see more wear and tear and they may need to be replaced sooner.
Where Are Maxxis Trailer Tires Made?
Maxxis tires are made in the U.S.A. and are headquartered there as well. It is an international company which has been around for over 50 years and has provided excellent quality products for all these years.
Where Are Carlisle Trailer Tires Made?
Carlisle is headquartered in Franklin, Tennessee and has been around for many years. They have provided the world with great technology and excellent tire designs.
Where Are Rainier Trailer Tires Made?
Rainier makes some of the best travel trailer tires in the market. They are durable and have a high load capacity. These are some of the most popular ones. The tires themselves are made in China.
Where Are Greenball Trailer Tires Made?
Greenball tires are made in China. They do not make the tires themselves but in fact, are a rebranding company. These tires are definitely some of the best in the market.
Where Are Trailer King Trailer Tires Made?
Trailer King has been around in the industry for over fifty years. They are a top-notch brand. They have, throughout these years, made top quality and reliable products and built a good reputation. These are also made in China under strict quality standards.
The Best Trailer Tires
Our aim was to provide you with sufficient information and give you an unbiased review so you can reach a conclusion about which trailer tire to invest in. Now that we have done that, you can easily get your hands on your preferred choice. All of these products are great for different reasons and come from trusted brands.
Share to Pinterest