As with home life, you really need to look after yourself on the road, and a good quality RV mattress should be one of the first things you invest in for that all important comfortable sleep.
Many people will know as soon as they lay down on a mattress whether they like it or not, and getting a sound sleep can really make or break any journey, which we know only too well.
Mattress technology out there now for anyone that demands comfort is broad. And whether you want just an air bed, or memory foam, or even RV mattresses with cooling gel to help regulate the temperature while you sleep, there are so may options it can be confusing.
Size is also critical. Do you want an RV Queen mattress, King, or bunk mattresses? Whatever the camper mattress you need for your own luxury, we help you find the best mattress possible for your RV.
In this review of the best RV mattresses, we have put our expertise (earned from many comfortable and not so comfortable nights) to great use, while also researching thousands of customer reviews.
After the review, we offer a Buyer's Guide detailing different types, qualities and sizes you'd need for your RV mattress. We also answer any FAQs regarding RV mattresses that we're regularly asked. If you prefer, you can jump straight to the RV Mattress Buyer's Guide by clicking the link…
Review of the Best RV Mattresses
The main part of this article is the review where we speak in detail on the different features of the listed RV mattresses and then give our final verdict. We hope this helps you in finding the best and most comfortable option for you.
DynastyMattress 10Gel-Queen-RV 10-inch CoolBreeze
Every king needs a queen, and this RV queen mattress seems to rule supreme over every other. This model was voted Sleep Foundation's Best RV Mattress for 2020, so you can be sure you're really getting home comforts with the 10″ thick mattress that boasts both memory foam and advanced cooling technology. 
With 7.5 inch memory foam mattress benefitting from a 2.5″ gel technology, the luxury mattress fixes the problem of its predecessor, by spreading out the heat evenly throughout, even if you're lying still at night.
Quality should never come into question with the four-layer construction. If you are looking to try before you buy, the 120-day trial should provide you with enough time to decide on this RV queen mattress. And for further peace of mind, unlike other brands, the manufacturer offers a twenty-year warranty.
Bottom Line
A lot of people don't like the idea of fully committing to a mattress unless they can try it beforehand. This manufacturer solves this issue by offering you with a 120-day trial and a 20-year warranty if anything does go wrong.
The memory foam is another plus for this RV queen mattress. What's more, the overheating problem that existed with this products predecessor is eradicated thanks to the gel technology that evenly distributes the heat despite lying still during the night. The only downside to this RV queen mattress is the cost. It's relatively expensive, but comfort always comes at a cost, and if you can afford it we highly recommend it.
Serenia Sleep 8-Inch Memory Foam, King
Coming in five different sizes, the RV king mattress version has everything you could want. With a 6 inch supportive foam base topped with 2-inches of 2.5lb memory foam, that morphs into a comfortable position around your hips and shoulders. This temperature sensitive option works to regulate your body temperature throughout the night.
The temperature feature on this RV mattress works thanks to the open-cell construction which disperses the weight evenly which, ensuring a cooler sleeping experience. Being an RV King mattress, you'll be able to fit as many as four people if you really need to, which is great for families. Of course, there are other sizes of this model, including single, double and RV queen mattress to name a few.
Bottom Line
This RV mattress has plenty of good points as you can see. The multiple sizes you can choose means you'll be able to offer the same comfort in smaller rooms for other family members, too.NASA created memory foam is probably the comfiest material you can find.
This RV mattress can fit up to four people at one time which means if you don't have any other sleeping areas for your young family, you can all just sleep on the king size.The memory foam offers a temperature regulator feature that's supposed to spread your weight evenly and disperse the heat. However, this feature doesn't work best if you remain stationary in one position for too long. 
Live & Sleep Ultra, Short Queen Gel Memory Foam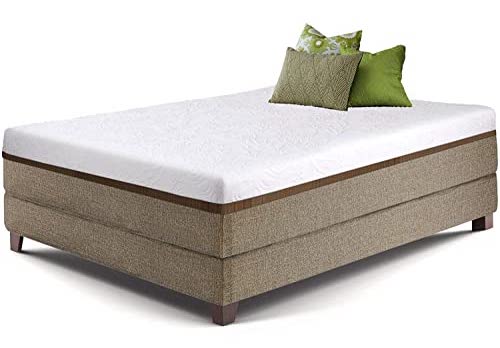 This RV Queen mattress boasts luxury 2.5-inch thick memory foam top, which maximizes air-flow and is also gel infused to ensure body heat is dispered evenly throughout. The 8.5-inch support ensures that extra-thick feel replicates the same comfort you get in a good quality hotel.
It has inexpensive quality foam that cools your body even on the most humid of nights. As an added bonus you'll receive a free memory foam pillow to ensure your sleep is nothing short of perfect. Another feature I like for this mattress is you get a 30-day trial, and a 20-year warranty. This should give you the confidence when shopping for your RV mattress.
Bottom Line
It's definitely one the best RV mattresses on the market. It's thick and feels like you're sleeping on a cloud says one of the reviews.
It's designed for campers, trailers, RV's and trucks, and the balanced contouring gel relaxes and cools your body while you sleep. It does this by evenly spreading any weight and body heat throughout the mattress.
A free memory foam pillow is nice, and if you decide it isn't for you, the 30-day trial should be helpful as well as the 20-year warranty.
There is the odd negative review about the memory foam thinning out after a while, and doesn't provide much of a cushion. That said, most reviews are positive.
Arctic Dreams 10″ Cooling Gel Mattress with Gel Infused Memory Foam
If you're looking for the best RV King Mattress, we think you'll like this one. Boasting a 10-inch comfortable hybrid mattress and cooling gel, the mattress ensures your back and any strained areas are comforted while you sleep.
With a thick 7″ high-density polyurethane foam base, the mattress also boasts 2.5" layer of Energex foam that bridges the gap between latex and visco-memory foam. And with a half-inch ultra-soft quilted top which is designed to resist body impressions, and ensures you get a plush, breathable comfortable sleep.
The RV mattress comes with a 10-year warranty which is plenty of time to get used to the mattress and really break it in. You'll be able to fit 4 people on this at any one time which makes it a perfect choice for young families that only have one room in their RV.
Bottom Line
This RV mattress will no doubt do exactly what it's built to do. The triple layer cooling gel will provide you with the perfect temperature to sleep comfortably at night. No more tossing and turning thanks to this polyurethane product.
This mattress was designed for comfort and thanks to the thick layer of foam, comfort is one of the main reasons people buy it. The 10-year warranty is also a decent bonus if anything happens to it. The only downsides are that it might be too big for some RVs and that it doesn't come with a trial.
Zinus Ultima Comfort Memory Foam 30″ x 75″
This twin size RV bunk mattress measures at 30 x 75 inches which is big enough for one person, most likely a child. The 1.5-inch memory foam top provides great comfort for anyone sleeping on the bed. Added to 4.5 inches of a support base that adds extra cushion and is promised to be durable and of high-quality.
The RV bunk mattress is also more eco-friendly than others on the market as they've replaced the use of petroleum with natural seed oils which also keeps the mattress fresher. The product also comes with a 10-year warranty if you run into any complications further down the line.
Bottom Line
The RV bunk mattress offers a decent level of cushion for anyone under a certain height. The layers of memory foam and the base layer will be more than enough to provide a decent night sleep. And buying this one, you'll be proud to know that you own an eco-friendly mattress which is one of only a few on the market.
The only downsides to this product is that there isn't any temperature regulation gel which means you might get fairly warm during the night. Although it's best used for a single child because of the small size, if you're of a certain height and doing some solo traveling, this could be an option.
UltraPlush Gel-Max Memory Foam by Perfect Cloud
Another memory foam option that offers you a good night's sleep. What's difference about this brand is that they offer the best RV twin mattress that can offer two people enough space to sleep soundly at night.
The 2-inch gel infused memory foam is placed above the top 1.5-inch layer of air-infused foam which is all placed on top of the 6.5-inch bottom layer. All of this combined makes for some of the best-cushioned comforts you could ask for.
The foam itself helps to limit any tension placed on your sensitive joints and areas like the neck or head. The cooling gel works to regulate your temperature effectively so that you don't wake up with the sweats during the night. With some impressive 75 x 38 dimensions and quality knitted design, you'll know this product was fit for luxury.
Bottom LineNot many RV twin mattresses actually have enough space for two, but this one sets the record straight with its 75 x 38 dimensions. The many layers of cushioned foam makes this bed so soft, you'll feel like you're sinking into a cloud.
With this extra foam, you'll notice the cool air that continuously passes through the mattress which regulates your body temperature. Not only does it work well, but it's also made to look fit for a queen with its luxurious patterns.
The only downside is that the width of this RV mattress could limit the space in your motorhome, and possibly not fit in some others at all.
Everynight Deluxe Medium-Firm Foam 75″ X 28″ X 5."
Built from nylon fabric, this RV bunk mattress provides some great density to just fall into and doze off on. It's hypoallergenic, anti-bacterial, fire retardant and can be trusted never to gather dust.
It's also one of the easiest mattresses to clean as you can just clean it with soap and water. Of course, if you don't have the time or simply too tired to clean it, just flip it over.
The nylon cover will provide you with a worthy soft and durable sleeping arrangement with a range of benefits. The dimensions of the mattress – 75 x 28 – are suitable for two people. Easily stick a sheet or cover to make it look more luxurious, and you'll be sorted for a peaceful night ahead.
Bottom Line
This product is best used on small journeys or at least a backup to your current model. The antibacterial and fire retardant properties are an added benefit, and it can be cleaned fairly easy thanks to the nylon surface. It can also fit two people which is even better logistically.
However, there isn't any temperature regulation, which isn't a great mix with the nylon cover. With the heat, you might get hot and sweaty at night, but for the price, it's a good RV bunk mattress.
MotorHome InnerSpace Travel Comfort
What Recent Buyers Report
Most of the recent buyers of MotorHome InnerSpace RV mattress are satisfied with its perfect fit. They find it firm, not too large, and extremely comfortable for a lightweight mattress.
There's no memory foam or temperature gel, so it can get a bit warm. Thanks to the mattress being relatively lightweight, you won't have a problem fitting it, as you can easily bend the end of the mattress if it's slightly too big. And best of all, this RV mattress is one of the cheaper products in our review.
Why it Stands Out to Us
This RV mattress stands out to us because it's lightweight, very easy to install, and it's cheap. The complete installation can be done in three simple steps. All you have to do is carefully unpack the box, remove the outer, protective sheet with the help of the scissors, take the mattress out, and let it expand. That's it!
Bottom Line
All in all, this RV mattress is another name of comfort when you are on the road. It's an easy installation, the thickness and length are comfortable, and with a breathable cover, it's a decent mattress for anyone who doesn't want to break the bank. 
Milliard Tri-Folding Memory Foam Mattress
What Recent Buyers Report
This RV mattress is a perfect fit for middle-aged campers who might not be as strong and agile as they once were. It's soft, firm, and extremely comfortable. The fabric on it is so soft and flexible it will keep you as comfortable as possible, while it's easy to carry from one place to another.
Why it Stands Out to Us
Milliard Tri Folding Memory Foam mattress is popular among RV campers because of its therapeutic and comfortable design. It stands out to us because it is ventilated to keep the airflow, which helps regulate your temperature while you sleep. It also comes with anti-slip covers.
Bottom Line
Overall, this is quite a versatile folding RV mattress perfect for any scenario. Even when you're using it as an RV mattress, it's light enough to use at home as a place for guests if having a sleepover. No matter how far you are from home, you'll never miss comfortable sleep with this RV mattress.
Zinus 8-Inch Foam and Spring RV Mattress
What Recent Buyers Report
When you unpack the mattress, you see that it's vacuum packed, but it rolls out very easily once you have opened it. Its buyers are extremely satisfied with its quality and the fact that it can support a maximum weight of 250 pounds. Those who like to sleep on their stomach will sleep comfortably on this one.
Why it Stands Out to Us
It stands out to us because it is made up of five top-quality layers. This RV mattress has a half an inch high-density foam, and one-inch ViscoLatex foam. Its base layer is also six inches thick as it's made up of steel coils. It also comes with a 10-year warranty, which adds to the user's peace of mind.
Bottom Line
Durable and comfortable, and built from premium quality layers, the RV mattress is easy to place, and remains in good shape over time. The five layers make for a comfortable sleep, and you can be sure you'll sleep like a baby on it.
EnerPlex Premium Dual Pump Luxury Air Mattress Airbed
Made from vinyl, this waterproof blow up mattress is ideal as a back-up bed in your RV. It can prevent punctures or escaping air which wouldn't end well for your sleeping routine. The material used has an antibacterial property and odor resistance that can also be washed and still have the same effect. Its properties ensure you're safe from any mold or grime growth which is common among vinyl materials.
The pump is built in is silent, self-inflating and deflating, saves a lot of precious time and effort. The pad also adds to the comfort as it's made from 50% cotton and the other half polyester.
Bottom Line
To be honest, this mattress is really only for emergency situations or maybe you simply don't care about comfort. It's fast and easy to use thanks to the electric pump that apparently doesn't give off any sound. It stops mold and bacterial growth, but what mattress should need to do this?
The most comfortable part is the mattress cover, but it shouldn't be use long term. The downsides are clear, it's not going to give you the best night sleep, but as a temporary solution it's an ideal investment.
Memory Foam Solutions Queen Size Topper
This simple roll out memory foam mattress topper is perfect for just throwing on top of your bed frame. And the best thing about this topper is that it will make your mattress cooler and more comfortable.
The 2-inches of cooling gel will mold around your body which creates an effective guard for your sore muscles and joints, aiding in their recovery from a hard day's drive. The cooling gel also helps reduce pressure that actually causes restlessness at night. The queen size mattress topper is perfect for you and your partner to have a good night's sleep while out in the RV.
Bottom Line
The simplicity of using this topper is one of the best benefits, all you need to do is roll-out the product and then instantly get ready to fall asleep. The 2-inch cooling gel foam will ensure you're comfortable enough at most points during the night.
This is perfect for when there's added pressure on any sensitive parts of the body, as this would usually wake you up at night, but with the cooling gel, it eases the pain.
The downsides are that the actual topper isn't thick enough if you use it as a stand alone mattress, especially if you're heavier than the average person. But for a topper, it will make any RV mattress a comfortable bed.
eLuxurySupply RV Mattress Pad Topper
This large polyester-blend RV mattress topper provides you with some of the best space and comfort a mattress can provide. The 72 x 80 design will ensure you and your partner can enjoy enough space to have a decent night sleep, the kids can even fit on it too.
The innovative design contains a bamboo cover that is filled with hypoallergenic cluster fiber which provides you with added comfort. There's nothing worse than a noisy, springy bed keeping you awake. No worries with this RV mattress topper as it will turn any old, spring bed into a comfortable bed and save you buying a new bed altogether.
Bottom Line
This mattress topper will offer you and your partner a spacious and comfortable option for relaxing at night in the RV. It's pretty comfortable and is well-suited for any mattress, whether that be a latex or memory foam.
The noise protection feature is a testament to this as even the standard spring loaded mattress will be almost silent if used with this topper. The only downsides for some people is that it could feel too soft for people over the average weight, as it creates a sinking feeling. 
RV Mattresses Buyer's Guide
In this Buyer's Guide we offer all the information you need on RV Mattresses, including qualities, sizes, different types and materials. We also offer advice on how to clean an RV mattress, and if you have any unanswered questions, there's an FAQ section to round up the article…
Qualities of a Great RV Mattress
It's weird to think that there's a lot more to choosing your RV mattress than just laying down and thinking it's comfortable or not. This might be the case when choosing for your house, but getting it right for your RV is different. The following points are things you'll need to remember when choosing the best RV mattress for you.
Size 
Size is a huge part in deciding on what to get. Do you want an RV Queen mattress? King, or just standard double? it might sound obvious, but many people overlook this. You'll want something that fits both your RV and the bed frame, as there'd be no point buying an RV queen mattress if there's not enough room.
The same goes for the frame and the room. If they're too small, then it wouldn't make much sense or leave any space. Measure your room, door, and frame before deciding on which size mattress you need.
Type
The type of mattress you buy is also important as a lot of people have been really picky when it comes to soft or hard options. There are plenty of types of different RV mattresses that provide a range of benefits and downsides. We discuss this topic in more detail below.
Added Features
Mattresses have different features, and each one provides appropriate protections against stains, temperature, weight and many other things. By providing these extra features, they'll be providing your RV mattress with extra value that you'll most likely benefit from. A normal option that does its job is a great thing, but if you can get a mattress with extra features, then why not?
What Size RV Mattress Do I Need? 
Sleeping in an RV is the most difficult part of camping, but with the right mattress, you can sleep in peace and make sure your driving skills are not compromised.
There are seven to eight different sizes you can find on the market. These include twin, truck, bunk, three quarter, RV full or double, short queen, RV queen, and RV king mattresses.
The first thing you need to do is grab a measuring tape and measure the RV bed frame's dimensions, length, and width. Then compare them to measurements of the mattress specifications. With the right measurements, you'd be able to choose the correct mattress.
How to Clean and Protect an RV Mattress
To ensure the long life of your RV mattress, it is imperative to clean and protect it. Here are a few tips that help you clean your mattress so that it can serve you for long. 
Rotation
It is recommended to rotate your RV mattress every six months. This rotation can help you increase the lifetime of your mattress, and ensure it remains comfortable for longer.
Water and Lavender Oil
In case your mattress is giving off a musty smell, the first thing you need to do is take off all the sheets. Make a mixture of water and lavender essential oil and spray it on the mattress. The next step is to keep the mattress outside for a couple of hours.
Home-Made Cleaner
To make sure that your RV mattress is mold-free and well-protected at all times, you should spray a cleaner all over it. Make your own RV mattress cleaner formula by adding a quarter of baking soda, half a cup of vinegar, and a half-gallon of water. Once made, spray it in your bed's surrounding area, including the windows, furniture, walls, and bed frame. This home-made formula can also help you keep mold at bay.
Types of RV Mattresses
As already mentioned, there are plenty of different types of mattress to choose from. The following RV mattress types offer a range of advantages and disadvantages while out on the road.
Memory Foam Mattress
One of the most comfortable materials to use on any RV mattress is memory foam. Memory foam mattresses adjust their shape to suit your body and help relieve pain from sensitive parts of the body like your neck or back.
A huge plus about memory foam is that it can regulate the temperature of your body as it's filled with pores. The only downside is that you can overheat if you don't move much in your sleep. This can be helped by using memory foam gel that disperses your heat evenly.
Latex Foam Mattress
Latex foam options are made from natural materials, which makes this option a lot more environmentally safe. This natural material will last a lot longer than most synthetic mattresses. These types are resistant to dust-mites and antimicrobial which makes them an even more attractive option, but latex foam isn't renowned for its comfort.
Standard Foam
This is just the standard foam that come with most RV mattresses. They're known to be thin and rather uncomfortable. The main selling point for these is that they're only a few inches thick so won't take up a lot of space. If you want something that can provide some extra comfort for a standard foam mattress, look into getting a topper.
People Also Ask – RV Mattresses FAQs
Getting The Best RV Mattress For A Good Night Sleep
Whenever you hit the road, you want some home comforts. And whether that's listening to your favorite music, or having a good night sleep with the best RV mattress, it all adds to a great journey.
Everyone's space and comfort needs are different, so whether you want the best RV Queen mattress, bunk, or just a topper, getting something comfortable and within budget is critical.
As well as space, you have to consider your age and weight, because if it's a portable mattress, you don't want to over exert yourself, and of course you want something that will last a long time.
Whichever mattress you choose for your RV, we hope you found this article helpful, and informative enough to make the right decision. And of course, we hope your every road trip is comfortable.
Share to Pinterest