Nobody enjoys cleaning, especially when you're supposed to be enjoying your getaway. But of course, it's a necessity, so getting the best RV vacuum cleaner will lighten the load, so to speak.
No matter where we are or what we do, we tend to leave a mess behind, and that's even more the case when you're out in the RV. After all, the great outdoors isn't all neat and tidy, even though it's beautiful.
So a vacuum for your RV is as important as any other piece of equipment. And getting one that's portable, effective, and compact is also important, especially to those with a smaller RV.
Whether you prefer a full RV central vacuum system or a lightweight handheld model, there are many different features to explore before deciding on the best tool for cleaning your floors, upholstery, and other RV surfaces.
We have put our experience and have gathered as much information as possible from other people's reviews to bring you what we believe are the best RV vacuum cleaners on the market.
There are many more that didn't make it, but we believe these are a great selection to get you started. After the review, we have included a Buyer's Guide where we go into more details about different types of products, and also answer any of the FAQs regarding RV vacuum cleaners.
If you prefer, you can jump straight to the RV Roof Cleaners Buyer's Guide by clicking the link…
Review of the Best RV Vacuum Cleaners
With these considerations in mind, let's explore the best RV vacuum options. If you're looking for 12v vacuum specific, check out this review…
Shark Rocket Corded Ultra-Light Hand Vacuum
Our number one RV vacuum is the Shark Rocket. It's lightweight and built to last, so it is an excellent option when you need to clean on the go. At just four pounds, it's light and easy to maneuver.
It includes a handheld TruePet motorized brush that enables deep and thorough cleaning on a variety of surfaces, from bare floors to car interiors. It can successfully extract pet hair, dirt, dust, and other allergens, so this RV vacuum is really a good all rounder..
The power cord is 15 feet long, which is more than enough to clean most RVs without having to keep switching outlets. The empty dust cup is simple to use and makes cleaning up a breeze.
All you have to do is hold the dust cup over the trashcan and press a button, then the bottom door will open and release the contents. On top of that, the filters are washable and reusable, so you never have to worry about the expense of replacing them.
There are a few accessories included with the purchase, such as a crevice tool, a dusting brush, the TruePet motorized brush, and a stretch hose. Each of these are extremely useful for thoroughly cleaning even the most challenging and hard-to-reach spots.
Bottom Line
Extremely portable, easy to use, and affordable, the Shark Rocket Corded Ultra-Light Hand Vacuum is a top-quality product. While its power cord is not as long as some of the other vacuums on this list, it makes up for it with its convenience and longevity. This is definitely up there with the very best vacuum cleaners for an RV.
Pros
Easy to Clean
Washable Filters
Precise and Effective
TruePet Motorized Brush
Works on Various Surfaces
Lightweight and Portable
HP Products 9880 Dirt Devil Central Vacuum System
If you're looking to invest in a vacuum you can easily install in your RV to save yourself space and time, look no further than the HP Products 9880 Dirt Devil Central Vacuum System. It's designed specifically for RV use, so it's built with durability and efficiency in mind.
It has a one-gallon capacity, allowing you to finish all your vacuuming before having to worry about emptying it. Since the system is built in, you won't have the hassle of recharging it or tripping over cords.
It's powerful and efficient with a flow rate of 100 cubic feet per minute and its 7' by 35' expandable hose allows you to reach every corner of the RV with ease.
When you purchase this product, you also get a 10-inch rug/floor tool, an upholstery tool, a dusting brush, crevice tools, and a mesh tool bag to neatly store them all in.
Bottom Line
This RV central vacuum system strikes the perfect balance between portable and durable. Each of its pieces are made from heavy-duty metal, but the unit only weighs about 15 pounds and is easy to maneuver around tight spaces.
While it costs a little more than some other options, it's very affordable for an RV central vacuum system and is an investment that will provide you with an effective, sturdy product that will last for many years.
Pros
Large Capacity
Tool Bag Included
Five-Year Warranty
Long Expandable Hose
Easy and Quick Installation
Works on a Variety of Surfaces
Cons
A Little Pricier than Other Options
BLACK+DECKER BDH2000PL Vacuum
When shopping for a vacuum for your RV, portability is a primary concern. You need a product that is easy to store and use in a limited space while you are traveling. No product fits this need better than the BLACK+DECKER BDH2000PL Vacuum.
It's incredibly light at just three pounds, so you can easily lift it to clean furniture and curtains.It uses cyclonic technology for powerful and effective suction. The nozzle has a unique design that allows it to pivot, so you can easily clean cramped areas and crevices. It also boasts a wide mouth to cover more area quickly and efficiently.
The BLACK+DECKER BDH2000PL Vacuum utilizes a 3-stage filtration system to help prevent clogging. The washable dirt bowl and filter are easy to empty and clean, and you save money by not having to replace both each time.
You can also remove the whole unit to wash it in the sink.This RV vacuum is cordless with a 20V MAX lithium ion battery that can hold a charge for up to four hours. There's a compact charging base that is also included. A crevice tool and brush are also included, so you can clean every crevice with ease.
Bottom Line
BLACK+DECKER BDH2000PL Vacuum is easy to transport and is great for cleaning in tight spaces, making it ideal for life in an RV. Its compact size allows you to use it on a variety of surfaces and it's equipped with a nozzle that can reach even the most hard-to-reach spots.
Pros
Wide Mouth
Pivoting Nozzle
Lightweight and Portable
Very Powerful (Cyclonic Technology)
Cordless with Long-Lasting Lithium Ion Battery
Oreck Commercial BB900DGR XL Pro 5, 30′ Power Cord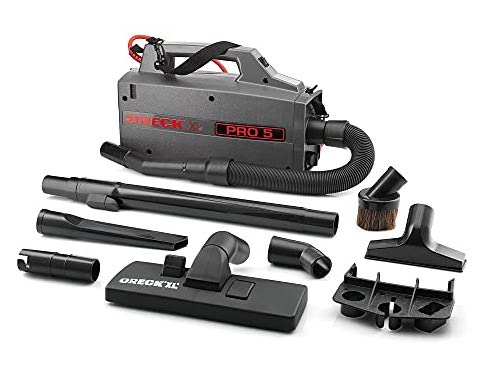 While many canister vacuums tend to be heavy and clunky, the Orek Commercial BB900DGR XL Pro 5 Super Compact Canister Vacuum is a noteworthy exception. It includes a shoulder strap and integrated handle, making it easy to maneuver and lift.
It has a one-quart capacity but is fairly lightweight at just five pounds. Its convenient and portable design can be attributed to the fact that it is made specifically for RVs and other recreational vehicles. It utilizes a two-stage bypass motor with 4-amps, offering better suction and power than vacuums with a single-stage motor.
There's a 30-foot power cord, so you can easily clean a large area without having to switch outlets. It also includes an adjustable extension wand and four-foot hose to help vacuum high and hard-to-reach spots, like overhead vents or cabinet tops. It uses a disposable bag and filter system for quick and simple clean up.
The RV vacuum cleaner and all of its components are made in the United States.
Bottom Line
The Orek Commercial BB900DGR XL Pro 5 Super Compact Canister Vacuum is the perfect combination of powerful and portable. Its two-stage bypass motor enables you to effectively clean all surfaces and the cleaning tool attachments make it easy to reach high and tight spaces. The shoulder strap quality could be improved, but the vacuum also has a convenient handle so it is easy to carry.
Pros
Powerful Motor
Long Cord (30 Feet)
Lightweight and Portable
One-Year Commercial Warranty
Cons
Shoulder Strap is Poor Quality
Vacuflo Vroom Central Vacuum
Unfortunately, many RV central vacuum systems lack the reach or power you need to keep your space clean. If your RV comes with a central vacuum pre-installed and you want some extra reach, the Vroom RV Vacuum Central Retractable 24' hose – 9220 is by far the best option.
The hose comes in a sleek black case that is compact and easy to store, but reaches a full 24 feet when in use so you can clean every corner of your RV. It includes a crevice brush that you can easily attach to clean tight and hard-to-reach areas.
You can use it on all surfaces, including upholstery, curtains, carpet and bare floors. And best of all, its powerful suction allows you to transform even the weakest central vacuum system into an effective and versatile cleaning tool.
Bottom Line
The Vroom RV Vacuum Central Retractable 24' hose – 9220 will instantly enhance any RV central vacuum and greatly improve your overall cleaning experience. The crevice brush attachment enables you to clean every nook and cranny with ease, and the significant length of the hose guarantees you will be able to reach every room without a problem.
Pros
Sleek and Compact
Powerful and Versatile
Includes Crevice Brush
Easy Storage (Retractable)
Significant Reach (24 Feet)
Dirt Devil SD20505 Corded Stick Vacuum
The Dirt Devil SD20505 Corded Stick Vacuum uses cyclonic filtration for powerful and effective suction. Weighing less than seven pounds, it's easy to maneuver, lift, and store. The 11 inch-wide tip, means you can cover a greater area with a single swipe.
The 10-amp motor is incredibly powerful and effective on a variety of surfaces, from bare floors to carpet and upholstery. It includes a Low Profile Nozzle that allows you to vacuum underneath furniture and clean those hard-to-reach spots.
The dust compartment easily detaches with the push of a button, and for increased convenience and cleanliness there's no bag. For further convenience, this RV vacuum has significant reach with a 20-foot cord, allowing you to move from room to room without searching for another outlet.
Bottom Line
The Dirt Devil SD20505 Corded Stick Vacuum is a powerful, convenient, and affordable RV vacuum that works well both at home and in your vehicle. Since it's so lightweight, storing in small spaces is no problem. And despite its small size, its 10-amp motor is highly effective on all surfaces.
Pros
Affordable Option
Long Cord (20 Feet)
Extremely Good Suction
Two-Year Limited Warranty
Lightweight, Portable Design
Cons
Loud
A Bit too Powerful for Smaller Items
Buyer's Guide
In the Buyer's Guide we've included all the necessary information you need before you go shopping for an RV vacuum cleaner. This includes how to choose the right one, the different types of RV vacuums, and also what aspects to consider before you get one.
As with all Buyer's Guides, we've included an FAQ section dedicated to all things RV vacuum cleaners, so by the end of the article you'll be well equipped with all the knowledge you need.
How to Choose an RV Vacuum
Overwhelmed by all the choices? It's okay. Keep these factors in mind when choosing a new vacuum for your RV:
Consider What You Are Cleaning
Before you invest in an RV vacuum, important to think about the types of surfaces you plan on cleaning with the vacuum most often. If you just need a vacuum to clean the RV carpet and maybe a few steps or couches, a simple design without too many features will get the job done.
What Attachments Are Needed?
If you know you'll be using your vacuum on a variety of surfaces to clean up trickier things like pet hair or liquids, you will need specific cleaning attachments. For example, vacuums that allow you to control the suction are best if you know you will be using it to clean on a wide range of surfaces.
You don't want the same amount of suction for cleaning a carpet as you do for curtains. Many vacuum models will come with attachments like pet hair tools and crevice brushes to help you effectively clean clingy or hard-to-reach items without clogging the filter.
What Type of Vacuum Are You After?
Another important factor to consider is the type of RV vacuum cleaner. We'll go over these in more depth later in the article, but the most important distinction to know is the difference between an RV central vacuum system and the other types. Central vacuums are systems that are meant to be installed in the RV for permanent use. The other types (upright, canister, and handheld vacuums) are portable and can be used for spaces outside of the RV as well.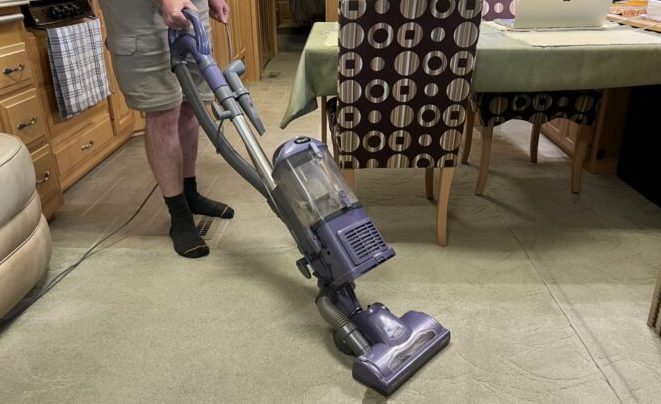 Types of RV Vacuums
There are four main types of vacuums that could work in an RV: upright, canister, handheld, and central vacuums.
Upright Vacuum Cleaners
An upright model is the type you probably picture when imagining a standard vacuum. As the name implies, they stand upright and are great if you need something with wide coverage. They work well on carpets, but are typically pretty bulky and heavy compared to other types. So if you have limited space, they aren't the ideal choice.
Canister
Like upright vacuums, canister vacuums are pretty common in most households. They're more flexible and work well on a variety of surfaces, including wood floors, furniture, and stairs. Many include attachments that allow you to lift the vacuum to clean upholstery or curtains if necessary, but they tend to be pretty heavy and bulky.
Handheld Vacuum Cleaners
If you're looking for a model that is lightweight and easy to maneuver in a small space, handheld vacuums are an excellent option. There are cordless models, so you won't have to worry about tripping over cords or finding another outlet while you vacuum. This type of vacuum cleaner is typically designed for vehicle upholstery, but they also work well on a range of other surfaces, including curtains, flooring, and carpet.  
Central Vacuums
Central vacuum systems are another great option because they can be connected to the center of your RV. Some RVs even come with them pre-installed, making them so easy to use and store. RV central vacuum systems tend to be more expensive than other types, but they operate quietly, and the best ones get the job done very effectively.
Aspects to Consider When Buying a Vacuum for Your RV
Size
As with any RV product, the size of your RV vacuum is an essential consideration. You want a model with powerful suction that can reach every corner of your RV, but can still easily tuck out of the way when it's not in use. Of course, if you have a larger RV and require a big vacuum, sometimes storage sacrifices have to be made.
Included Attachments and Features
A quality RV vacuum will include a few cleaning attachments that enable it to work effectively with different items and surfaces. For example, many models will come with crevice brushes to clean tight corners or pet hair tools to remove hair easily without risking clogging the whole system. Some also come with round or motorized brushes to provide a more thorough cleaning process to remove dust and other allergens.
Bag vs. Bagless
Both bag and bagless RV vacuum cleaners have their pros and cons.
If you use a vacuum with a dust bag, it usually has a better filtration system to remove allergens and bacteria. The downside is you have to constantly replace them, which is an extra expense.
If you go for a bagless vacuum, you won't have to worry about replacing filters. However, you have to be diligent about cleaning the container and filters so they remain sanitary and effective.
Noise
When you're cleaning in a small, enclosed space like an RV, sounds are amplified. All vacuums will have a certain degree of obnoxious noise, but certain models utilize systems that significantly decrease the amount of noise they omit.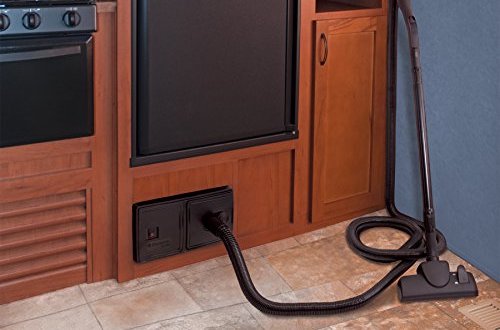 RV Vacuum Cleaners – The Best Depends on Your Situation
As with everything else, the best RV vacuum will depend on your own preferences. With a vacuum cleaner for RV, you have to consider size, noise, and cleaning needs. Each of these aspects should be considered before investing in one so you can be sure you have the best vacuum to tackle the inevitable mess that accumulates on the road in the most convenient and effective way possible.  
All of the above vacuums boast varied features, but they all get the job done very well. We hope this article and review gave you the bedrock of knowledge so you can go out and get the ideal product for your needs.
Happy cleaning!
RV Vacuum Cleaners – FAQs
What is the best RV Vacuum Cleaner?
There's no out-and-out best RV vacuum. There are other questions you need to answer before you know what's the best RV vacuum for your RV, such as: How big is your RV and how much storage space do you have? What type of RV vacuum cleaner are you looking for – hand held, central vacuum system etc? All of these will be answered as you read the above article.
Do you need a Vacuum in an RV?
Yes! The outdoors can be messy, and actually, so are we humans. Whether you're away in the mountains and trailing dirt, or journeying down by the beach and you're getting sand everywhere, your RV needs a good clean. You can sweep of course, but nothing picks dirt up like a good quality vacuum for your RV.
Should you empty your vacuum every time?
According to the experts, it is better to empty it every time you use it, or at least when it reaches 2/3 of its capacity. It doesn't take long to empty it, and the more you look after your RV vacuum cleaner, the longer you will have it.
What happens if you don't clean your vacuum cleaner?
Believe it or not, your vacuum cleaner needs a bit of TLC and the odd clean will elongate its life. All the gunk you vacuum up can wear the motor or belt down, which affects its power and means you're working longer. Empty it regularly and clean any twisted debris often.
Share to Pinterest