During the colder months an RV electric heater is a godsend. It can warm your RV up in no time, ensuring you're nice and comfortable in short a time as possible.
They're cozy and quick and the best RV electric heaters come with more features than you'd expect. RVs nowadays do come with pre-built heaters, but most people switch them with electric heaters as they're better.
Using an electric heater won't only keep you warm and cozy, however. As well as the obvious, it can also prevent your other appliances from getting damaged due to the cold temperatures.
Shopping for an electric heater for RV living isn't a straightforward decision, however. The better ones boast features beyond giving off heat, so to help you out we've compiled a list of what we think are the best RV elctric heaters on the market.
The review goes into detail each chosen appliance. And as with all our other reviews, we have added a helpful advice section, to make sure you know what features are best to look out for.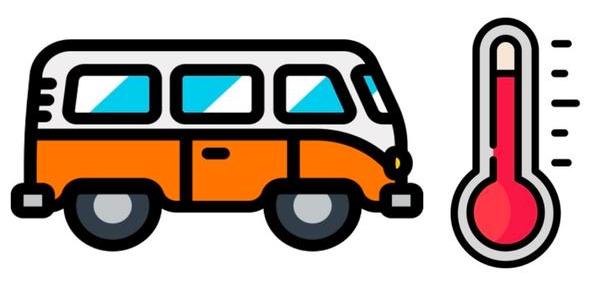 After the reviews, we have included a buyer's guide, where we go into more detail on which types of RV electric heaters and which features to look out for. And there's an FAQ section, where we answer all remaining questions you may need answering. 
If you prefer, you can jump straight to the RV Electric Heaters Buyer's Guide by clicking the link…
Review of the Best RV Electric Heaters
The following are some of the best RV electric heaters. We've explained the reasoning why these products are good. As well as pointing out their standout features, we've also pointed out the drawbacks, as nothing is perfect. This way, you'll have all the information you need to make an educated choice when buying your next electric heater.
Best Overall RV Electric Heater: Lasko Designer Oscillating Heater
Pros
It Has a Beautiful Design

It Distributes Warmth Evenly

It is Easy to Install and Operate
Cons
It Rotates Only 90 Degrees Instead of 180
This amazing RV electric heater has made it onto our list as the best overall. From the looks to the design it looks great and works exceedingly well, and has everything we're looking for.
Boasting a beautiful design, the heater accentuates the class and grace of the space you keep it, whether in your RV or your home. The key to a good electric heater for your RV is its portable size and this is lightweight and can be carried without a hassle. This makes it convenient to store as well.
The performance is the best thing, however. It has a widespread oscillation which can evenly distribute heat to all parts of your vehicle. The settings can be personalized according to your preference as you can choose between high, low, and thermostat controlled settings.
All electric heaters pose a risk, but this particular heater comes with a ceramic element, which protects the device from overheating and keeps the exterior cool to touch, making it safe to have around.
 Whether you have a large vehicle or a smaller one, this heater can heat an RV of any size up to 340 sq. ft. This includes a good size room in your home.
Bottom Line
This is a great electric heater. The pros massively outweigh the cons, and this will prove to be an excellent investment to keep your RV warm. It is carefully designed to be ergonomic and user-friendly and can even be used as a small heater for your living room or bedroom. 
Runner-Up: Caframo True North Heater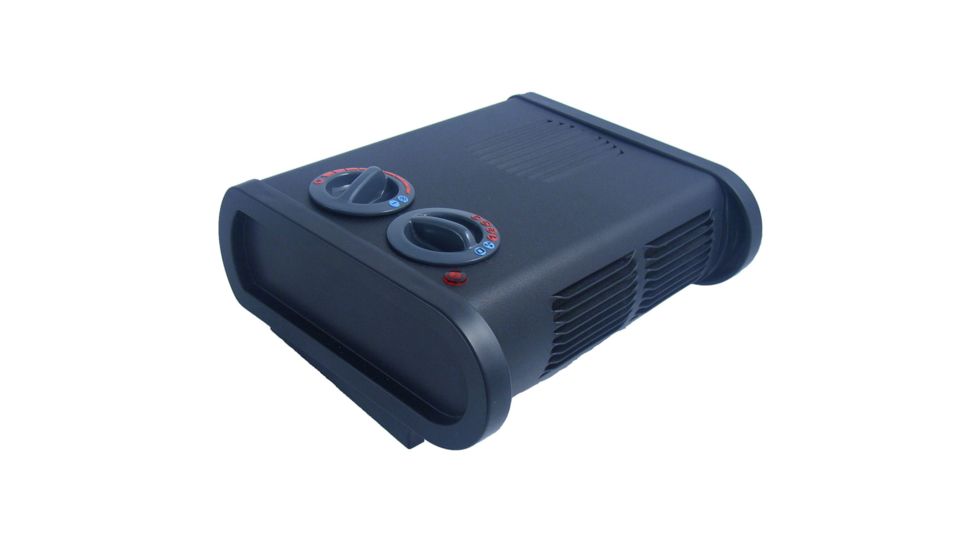 Pros
The Outlook is Beautiful

It is Lightweight and Portable

The Antifreeze Option Works Well
Cons
The Fan is a Little Loud While Operating; Thus it Can Disrupt Sleep and Other Activities
We have termed this one as our runner-up, and it's definitely one of the best RV electric heaters you can get. It has an excellent design and performs very well too. Aesthetically, the plain blue exterior and simple design make it a good addition to any environment, as it would not clash. It's portable and lightweight, which makes it easy to travel with. After all, you wouldn't want a bulky heater that takes up too much space or is inconvenient to travel with.
This heater works well for all seasons. Whether it is mildly chilly or extremely cold, it will impact a variety of temperatures and circumstances. The RV electric heater comes equipped with five settings, from steady low heat to high for maximum heat circulation.
On top of this, it comes with an anti-freeze setting that's automatically triggered when the room temperature falls below 38 Fahrenheit (3 degrees Celsius). This feature, as the name suggests, ensures the room temperature doesn't fall below freezing point. 
This heater not only performs well but is, in fact, highly durable and of great quality. One downside, however, is the fan is pretty loud while operating, especially on maximum.
Bottom Line
This is another great electric heater. If you can put aside the loud noise, this heater is a great buy. Not only does it look stylish, it will give you warm, cozy heat in little to no time.
Best RV Electric Heater for the Money: Lasko Ceramic Space Heater
Pros
It's Portable and Therefore, Easy to Carry and Store

It Has a Sleek and Stylish Design Which Looks Great in Many Settings

It Has 2 Settings and an Adjustable Thermostat to Select the Setting of Personal Preference
Cons
The Cord Tends to Overheat
This is the best RV electric heater for money, and rightfully so. It boasts all the features which make it a great purchase, without breaking the bank.
First of all, Lasko is a globally renowned brand. They've been around for years and many people have appreciated their high-quality products.
This particular model looks great and performs even better. The overall sleek and stylish design fits perfectly in multiple settings without looking out of place. Another exciting part of the design is its portable nature. It's lightweight and convenient, and the attached handle means it's easy to move about.
Despite all the great features, the performance is always what it comes down to. This hasn't disappointed us and the electric heater works really well. It comes with two settings – low and high heat, plus an automatic thermostat, ideal for warming up any area.
This heater also has widespread oscillation, which evenly distributes heat around your vehicle. The adjustable thermostat has an easy-to-read display which allows you to easily select from a wide range of temperatures
Safety is always important when it comes to an electric heater for RV living, and this model boasts a ceramic element that prevents the appliance from overheating and keeps the exterior cool to touch.
Bottom Line
This would be an excellent purchase. It gives you a lot of buck for little bank. The excellent design isn't only great to look at, but packs a lot of features. The widespread oscillation, safety features, and two settings with adjustable thermostat are all the things you desire in a good heater.
Vornado Vortex Heater
Pros
It Has a Stylish Design

It is Portable and Lightweight

Since it is Energy Efficient, it is Quite Practical to Use
Cons
It Might Not be as Powerful as Some Others
Another great purchase is this Vornado Vortex Heater. Featuring a simple, yet modern design which has a minimalistic vibe to it, this amazing model does its job very well.
This RV electric heater features a portable design which is lightweight and easy to carry. It's designed with style and convenience in mind, with a modern glossy white finish and hidden cord storage space.
It packs a plethora of features, which make it a great purchase. It warms the air with great efficiency and is energy efficient as well. It's extremely practical and easy to use with little left to the imagination.
The RV electric heater warms a space up to 300 sq ft., making it an ideal heater no matter what size RV you have. The efficiency is supported by an even distribution through the heater's "Vortex Action".
It has two heat settings and an electronic auto climate control. It comes with safety features that prevent the machine from overheating and keep the exterior cool, so there is little danger of getting burned.
Bottom Line
This RV electric heater is a good investment. The only downside is that it's not the most powerful of heaters, and so getting somewhere warm in the depth of winter would take time. The pros largely outweigh the cons, however, and we're sure you wouldn't regret buying it. 
Lasko Ceramic Space Heater with Adjustable Thermostat
Pros
It Efficiently Warms the Area

It is Easy to Travel With

It Has a Classy All-Black Design Which Works for Different Environments
Cons
Here's another Lasko product that has made it to our RV Electric Heater Review. The brand has been around for over a century and has always provided great products with innovative technology, and this heater is no different.
It's a compact space heater – lightweight and portable. It's a personal space heater and would work efficiently for small spaces. It can be moved from room to room with the aid of the conveniently placed carry handle. It's not bulky to store either, and the all-black classy design oozes class and we believe it's an electric heater that would look perfect in any modern setting.
It boasts an array of excellent features which make it a worthy investment. These include three heat settings – low heat, high heat, and fan. There's also an adjustable thermostat, which ensures your room is warmed to the right temperature. 
The adjustable thermostat allows you to select from 11 different settings to find your preferred one. As well as this, there are built-in safety features that make this device safe to use, such as preventing the heater from overheating and ensuring the exterior is cool to touch even when the RV electric heater is at its hottest.
Bottom Line
This is a decent little heater that looks great and is a good price. It's not ideal for the biggest of areas, but it warms a medium sized RV up quickly enough. 
BOVADO Portable Ceramic Space Heater
Pros
Features a Very Stylish Design

It is Safe to Use Even With Children Around

It Works Efficiently to Heat Up the Space Quickly
Cons
It is a Little Noisy While Operating
Bovado has produced yet another amazing heater. This unit has a beautiful exterior with an overall black finish and a sleek, stylish look. It's a small, portable RV electric heater, which can be carried easily thanks to the conveniently placed carry handles. Given its small size, it's easy to store as well. 
The first thing you notice about this heater is the stylish look, but it's the technology that steals the show. It's highly efficient in warming small to medium-sized spaces, and boasts three – high, low, and fan only settings. It also comes with a six-foot-long cord.
This RV electric heater has a fan forced dispersion feature which evenly distributes heat throughout the space. It also utilizes a PTC system which has specialized ceramic discs to enhance heat transfer to even the smallest places.
The heater's also user-friendly, and by the simple turn of a dial, you can choose your preferred heat setting and then turn the other dial to adjust the intensity. It has a protection system which prevents the unit from overheating and keeps the exterior cool to touch, so any children or pets will always be safe.
Bottom Line
This electric heater won't disappoint, but there is a downside: it's quite noisy. Therefore, it might not be the best fit for your bedroom. Other than that, it works great.
Delonghi ComforTemp Portable Oil Filled Radiator
Pros
It Has a Portable Design

It is Efficient is the Heating Process

The Oil Reservoir it Comes With Does Not Need Refilling
Cons
It is Way Heavier Than Other Comparable Options
This Delonghi electric heater is a great one to invest in and will warm your RV up in no time. It has a sweet design along with excellent features, and it efficiently heats a good sized area.
It comes in a sleek and elegant design which would be an excellent addition to your home or vehicle. It's heavier than average heaters and not as easy to carry, but it comes with caster wheels to make the process easier. The RV electric heater is made of high-quality steel and has a permanent oil reservoir which doesn't need refilling. This makes the machine low-maintenance and beneficial in the long run.
This model provides about 1500 watts of heating, and it efficiently heats and distributes the heat throughout the room. If your number one worry about getting a heater is that it will increase your electricity bills, then worry no more! This amazing device has got your back.
It comes with a ComforTemp button which, once turned on, helps in reducing energy cost by maintaining the optimal room temperature. On top of this, the heater has three heat settings and an adjustable thermostat, which allows you to select your comfort setting. 
It also boasts safety features that prevent the machine from overheating and also keep the exterior cool to touch.
Bottom Line
This is, overall, a good quality RV electric heater. It's not the most portable heater on our review, but it heats a good sized area up pretty quickly and efficiently. It's also fool proof and user-friendly, and boasts all the features you'd expect from a good quality electric heater for your RV.
Pelonis Ceramic Heater
Pros
It is Small and Portable

It has Efficient Heating Capabilities

It Has a Pretty Design and Would Make a Nice Addition to Your RV
Cons
It Makes a Lot of Noise

It Does Not Have a Tip-Over Trigger
This is our last pick for the Best RV Electric Heaters. The Pelonis is a great option for a number of reasons that you can barely beat it at this price point. As well as a really pretty design the small and lightweight heater quickly heats up a small to medium area.
It has a 1500 watt heating power, so not ideal for bigger areas, but it distributes heat evenly and effectively. It also has an adjustable thermostat so you can maintain a nice heat once you get there.
It has three – low, high, and fan only settings. There's also has a ceramic element which prevents it from overheating and keeps the exterior cool to the touch.
It doesn't have a tip-over trigger, which means it's necessary to place it in an area away from the furniture and flammable objects.
Bottom Line
If you're interested in a heater for moderate heating jobs and day time operation, then this is a good choice. It's a little for a small heater, but it It works well for small spaces. No tip-over trigger could be a problem for some, but it's good at what its supposed to: heat your RV.
Buyer's Guide
Can You Leave an RV Electric Heater on All Night?
You're advised not to leave an RV electric heater on overnight as it can be potentially dangerous. This is especially applicable to heaters that don't have tip-over protection. These devices have heating elements and could cause a fire, burn your child's hand, etc.
As well as this, an electric heater dries out the air and if you leave it on overnight, it could dry your skin and nasal passages, which isn't a pretty scenario for comfort.
What Makes The Best Electric Heater for RV Living?
Everyone has different environments that need the use of a heater, and they expect different things from one. However, there's some common ground for what makes the best RV electric heater. Here's what you should consider before investing in one:
Noise
For your RV, you should invest in an electric heater which is not uncomfortably noisy. Overbearing noise can be a result of the built-in fan that electric heaters have. Look for a model which is smaller in size, as they generally make no noise. Alternatively, more expensive electric heaters have more innovative and sophisticated technology and are generally quieter. But not always!
Efficiency
The best electric heater for RV living will use minimum energy and produce maximum heat output. These are the kinds of electric heaters you should want. It's crucial to invest in one that's power efficient, so it works without killing the battery.
Lasko Designer Oscillating Heater
Safety Features
Safety always comes first! It's important to invest in an electric heater for your RV which boasts safety features that prevent it from overheating and keep the exterior cool to touch.
A slight negligence on your behalf could turn into an ugly fire hazard you would not want. Therefore, look for safety features before you invest.
Voltage
The most basic requirement would be the RV electric heater you invest in should be compatible with your RV. This means you need to take a look at the voltage it will consume, its overall wattage, etc.
These things can drastically affect the unit's efficiency, and are important in determining the space it will be able to cover and the amount of heat it will produce.
Aspects to Consider Before Buying an RV Electric Heater
Safety and Quality
Your safety and a quality product should always be your top priority. Most of the time, these two things go hand-in-hand, as good quality products generally have good safety mechanisms. All of these reviewed products are of great quality and most have safety mechanisms.
Durable
In the long run, quality products run smoothly and keep your space warmer for longer periods of time. Investing in cheap RV electric heaters may seem feasible at the time, but they'll soon stop performing to your expectations.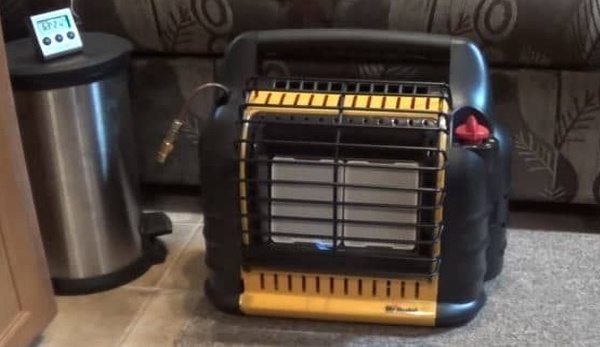 Noise Controlled
A good quality RV electric heater is made from superior materials, and this means a smooth and premium heater that isn't noisy. Always make sure you get one that won't disturb the ambience of your RV.
Efficiency
Good quality RV electric heaters should be highly efficient. They work in a manner that helps conserve energy while giving maximum heating. These heaters usually have sophisticated technology to ensure this outcome.
Electric Heaters for RVs – FAQs
What is the safest way to heat an RV?
An Electric Heater is the easiest and safest way to heat an RV. They come in all shapes and sizes. You can find electric oil heaters, ceramic heaters, and infrared heaters. An RV electric heaters will usually be lightweight, safe to use indoors, and best of all: cheap to run.
Are electric heaters safe to leave on overnight?
A modern electric heater will be safe to keep on while sleeping. Make sure your RV electric heater is certified and has features like automatic shutoff, thermostat, tip over protection, a shut off timer etc.
Can you get carbon monoxide from electric heaters?
Electric heaters pose no danger of carbon monoxide poisoning. Only heaters that burn a combustible fuel such as kerosene can cause carbon monoxide.
Can electric heaters cause suffocation?
Air heaters can cause suffocation as they deplete the quantity of moisture in the air and make the air become dry. So, if you suffer from respiratory problems, it could make you feel uneasy when an air heater is on.
RV Electric Heaters for Those Warm and Cozy Winter Nights
An RV electric heater is the best way to warm up your vehicle. You can get them to perform at different sized areas, but all of the above come recommended.
They all boast the all important safety, efficiency, and durability and of course quality features. The electric heater you go for depends on your RV needs, but hopefully this article has helped guide you to the right one.
Whichever heater you go for, we're happy to know that you won't be suffering the cold anymore. Either way, choose carefully, for the right heater can make a world of difference!
Share to Pinterest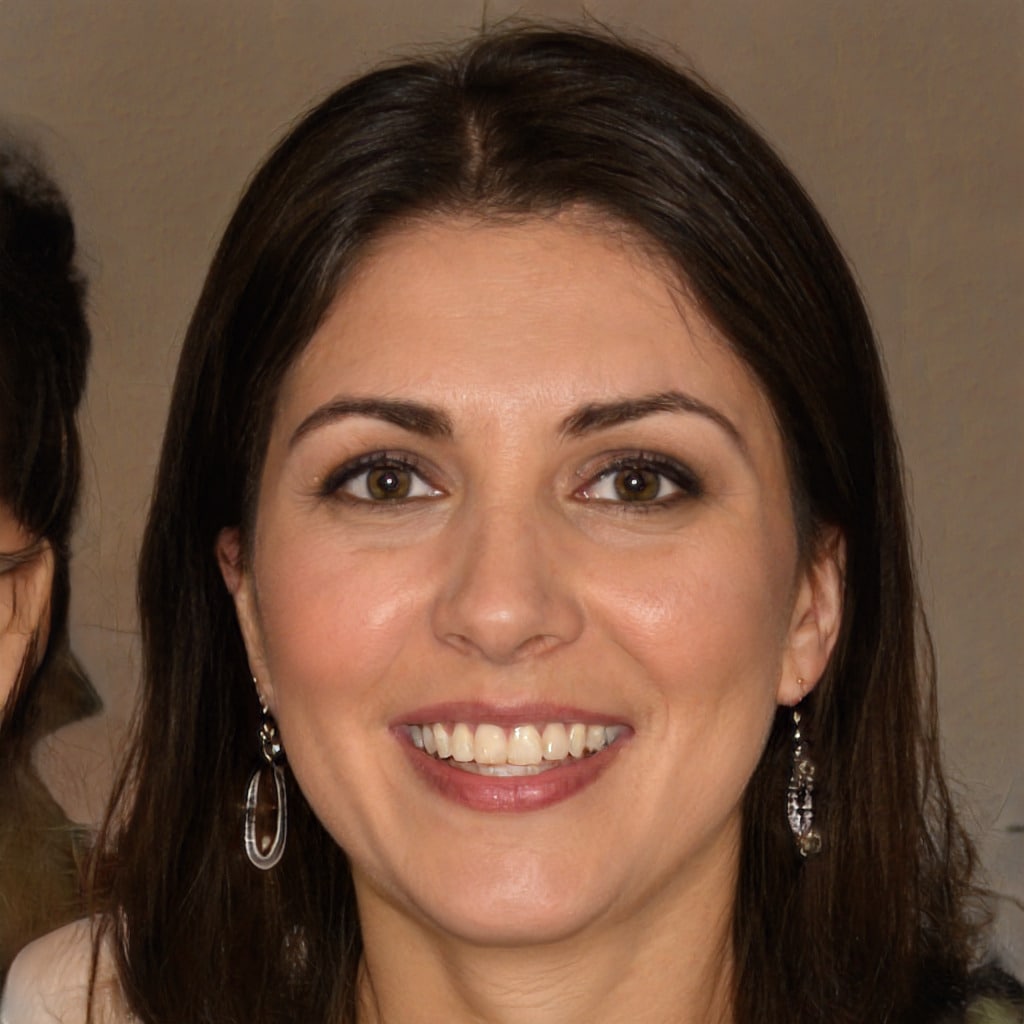 Hello, fellow wanderers! I'm Alyssia. Since 2008, my husband and I have called an RV our home, journeying through life one mile at a time. Our nomadic lifestyle has led us to over 70 countries, each with their unique tales that have shaped our own.
I share our stories and insights right here, hoping to inspire and guide you in your own adventures. Expect tips on RV living, our favorite camping spots, breathtaking hiking trails, and the joys and challenges of an ever-changing view from our window. Alongside, you'll also find practical advice on outdoorsy stuff, designed to equip you for any journey. Join us as we continue to explore the vast, beautiful world on wheels!