RV Covers for Your RV Parts
Are you on the hunt for the ideal RV cover? Look no further as we have assembled the perfect guide just for you, pun unintended. RV covers, ranging from comprehensive trailer covers to specific tire covers, serve as an indispensable shield for your home away from home.
The preservation of your RV's exterior could be an uphill battle, especially after enduring the brunt of a harsh winter on your driveway. Hence, it's essential to protect your recreational vehicle against inclement weather conditions.
Investing in a high-quality RV cover is a strategic defense against the rigorous winter and powerful ultraviolet rays. By providing this shield, covers mitigate potential damages caused by natural elements, ensuring the longevity of your vehicle.
This comprehensive review will walk you through the top-performing RV covers currently on the market, examining their distinctive features, advantages, and drawbacks. Whatever component of your RV requires shielding, our review offers valuable insights for the optimal protective solution.
Afterward, we've included a succinct Buyer's Guide, breaking down essential considerations before purchasing your RV cover. For any lingering queries, we've addressed a broad spectrum of common questions in our FAQ section. By the end of this article, you'll be well-versed in the nuances of RV covers, empowering you to make an informed purchase decision.
If you prefer, you can jump straight to the RV Covers Buyer's Guide by clicking the link…
Review of the Best RV Covers
The most important section of this article would need to be the review. This is where we discuss the various products that we believe are the best RV covers on the market. We discuss the features, pros and cons of each product, and hopefully help you find your next investment.
ADCO Designer Series Class A Cover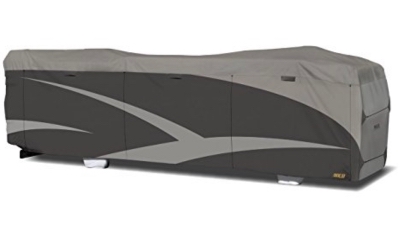 This Class A cover has many great features, such as the weighted buckle toss-under which makes the process of clipping the buckles on opposing sides easier than ever. This ensures a quick setup, which is a great feature especially if the weather quickly takes a turn for the worse.
The UV protective material helps prevent any possible damage caused, due to the sun's UV rays. It also has zipper entry doors which make for quick and easy access when your RV is in storage during the winter months.
Bottom Line
This RV cover offers many advantages, with the main advantage being the weighted buckle toss-under. This removes the hassle of trying to clip the buckles, on opposite sides and allows for you to quickly secure it in place without struggle. Another benefit includes easy access to your RV when it's in storage, thanks to the zipper entry doors.
Other benefits include UV protective material, which prevents your RV from being sun damaged over time and also ensures protection during the harsher weather. It also helps fight against any mold formation. The only disadvantage to this product is that the material may be prone to tearing if put under stress.
Classic Accessories OverDrive PolyPro 3 Deluxe Class B Cover
You'll not need to worry about any tight fits with this full Class B RV cover. You'll have the benefit of the adjustable front and rear tension panels, meaning you'll have a comfortable fitting around the corners of your RV so that nothing gets in or out, apart from fresh air. The integrated air vent system and quick drying polypropylene material will successfully keep moisture out and limit any stress caused by the wind.
The thick, triple-ply material is great for protecting your RV against elements like heavy rain, snow, and anything that mother nature can throw it at including scratches.One of the biggest problems for RV owners with a cheap RV cover is that they can't access the RV without taking half of their cover off. However, this product allows easy access to the doors and engine any time you need.  
Bottom Line
You'll find this is the most convenient option on the market for Class B RVs. The zippered panels fix the problem of quickly accessing your RV, making this a very convenient RV cover. What's more, you'll have no problem fitting the cover around your RV, thanks to the adjustable tension panels.
The polypropylene material is great at protecting against dirt, rain, accidental scratches, and mainly everything life can throw at it. It even comes with its own storage bag that you can use to keep it in while not using it.The only real downside with such a large cover is that it can take up to three people to install it. It's all trial and error, but the first few times you try it, you'll be better with at least another person to help you.
ADCO Designer Series Class C Cover
This Class C RV cover offers multiple features that will be great for any RV owner, such as the slip-stream strapping system. This allows it to securely fit around the top and bottom of your RV, ensuring a tight fit which will help prevent it from coming off in high winds.
The weighted buckle toss-under makes clipping the buckles on opposing sides easier than ever, allowing for a quick set up. The UV protective material prevents damage that could be caused by the sun's UV rays.
Bottom Line
This RV cover has many great benefits, and the UV protective material will defintiely protect your Class C home from the harmful rays. Not only the hot sun, but it provides protection against rain, wind, and snow and whatever else nature can throw at it.
The slip-stream strapping gives the cover extra security and ensures that moisture is kept out and keeping the dryness in. Other benefits include easy set up and access to your RV thanks to the buckles that keep it in place. The only disadvantage to this RV cover is that the material can be easily torn if strained over time.
Leader Accessories Travel Trailer RV Cover
This RV cover has been given the best value for money title as it boasts many great features at an excellent price entry. A great feature of this RV cover is the adjustable tension panels on the front and back, which help to decrease the strain caused when tensions straps are tightened.
Of course the cover helps your RV withstand all weather conditions, as well as any scuffs and bird droppings which would normally be hard to prevent. The zippered panels make accessing your RV's engine and door areas easy whenever you may need.
Bottom Line
This Leader Accessories cover has many advantages to offer any RV owner. The main one being the tension panels which lower the strain put on the cover once it has been secured in place. This helps your cover last longer over time and lowers the chances of the material tearing.
A weighted toss bag system with strap attachments gets rid of the struggle of scrambling under your RV to put tension straps in place. Benefits also include quick access zipper panels and air vents which decrease the stress caused by high winds. A big downfall of this product is its lack of UV protection, which puts your RV is at risk of sun damage and can cause fading over time, but if you don't live down south, it's not a major concern.
Classic Accessories OverDrive Spare Tire Cover
This spare tire cover boasts a number of excellent features that will be great for any RV owner. It has an elasticated back hem which ensures a tight fit around your spare tire, which helps keep moisture and residue out and prevents any damage to your spare tire.
It also protects your spare tire against UV rays, which over time would cause damage to the metal of the wheel. The material also allows for a speedy clean as you simply wipe the dirt and other substances off the cover. It also boasts a soft non-scratch backing to help further protect your tires.
Bottom Line
Of all the many advantages to this product, the main one is its UV protection. This blocks your spare tire from the sun's rays and prevents it from causing long-lasting damage. Without this protection, your tire and wheel would be exposed to sun damage which causes rust to the wheel, and fading and cracks to form on the tire.
The tight-fitting design helps to keep water and dirt out, which would lead to mold and rust if left uncovered. The material is also water repellent which will further protect your tire as well as the cover itself, helping this product to last longer. The one disadvantage is that although it may last a long time, it's still susceptible to damage and after long sun exposure, it will start to degrade over time.
ADCO Designer Series SFS Aqua Shed Cover – Great for Snow
There are lots of excellent features this RV cover has to offer. For one, the zipper doors give you easy accessibility when your RV is in storage. This prevents you from going through the hassle of removing the whole RV cover.
The UV-protective material keeps your RV from discoloring and prevents unwanted cracking. The main selling point of this RV cover, however, is the triple-layer SFS AquaShed paneling. This ensures high resistance to humidity and rain, as well as air vents which let air out of the cover during medium wind speeds.
Bottom Line
This RV cover boasts many features that would be great for any RV owner. The main feature being the triple-layered SFS AquaShed material, which provides added protection from moisture and humidity. This prevents any mold and mildew from forming as it keeps your RV dry and protected from the rain and snow.
Other nice features are the zippered doors, giving hassle-free access at any time, the UV protection which helps block your RV from unwanted sun damage. The reinforced buckles, straps, and flaps should help prolong the life of your cover by helping reduce the risk of wear and tear. Just don't over-tighten them as this could stress your RV cover over time.
RV Patio Awning Cover
This awning cover has multiple great features to offer, such as a UV-resistant material, which protects your awning from any discoloration from long term sun exposure. The installation process is also quick and simple due to the product's flexibility.
The material will not weaken over time, ensuring long-lasting protection and will neither discolor, even after being exposed for long periods of time. The awning cover also protects from all weather conditions and allows for the awning to be fully extended, even with the product in place, making life easier while out camping.
Bottom Line
This model has many features to offer, but what we really liked was its durability. It's designed to not weaken or fade over time, allowing it to stay as good as new for years after installation. In fact, tests have shown that the material can last up to 60 years with proper care. Not bad!T
his RV cover also boasts UV protection, preventing your awning from becoming sun damaged over time. It also comes with transport clips, meaning you don't need to worry about removing and reinstalling every time you travel. Simply put the clips in place and you're good to go.
Nothing is perfect, and of course this product does lack in some areas. With this awning cover, you can't use it at the same time as a full RV cover. And at high temperatures, there's the risk of the product distorting and flattening out.
Classic Accessories 4-Pack RV Deluxe Wheel Covers
These tire covers offer multiple great features to help protect your RV tires, such as UV protection, which defends your tires against sun damage due to exposure to the sun's rays over time.
The tire covers are very efficient due to the fast and simple elasticated back paneling, which allows them to slip on and off with ease. There are two rear eyelets to allow you to secure the cover in place with a rope, which is also included with the covers.
Bottom Line
These tire covers boast many great features, the main one being the protective material. Not only does it prevent damage from UV rays but it protects your RV tires from dirt and rust. This will stop your tires from wearing down over time and keep them in good condition for longer.
It also boasts an easy to clean material allowing them to stay in better nick for longer. The elasticated back paneling helps them fit snuggly onto your tires and provide extra protection against any water or humidity. However, the elastic may begin to loosen over time and therefore prevent the covers from having a secure fit, which may lead to unwanted water getting in.
Camco Roof Vent Cover
The vent cover acts as a protective housing for your RV vent. It allows you to have your vents open during any weather, even in the rain. Using this vent cover allows you to keep your vent open during travel as there's a removable insect filter that stops any bugs or debris getting into your RV.
Cleaning this vent cover is a fairly easy process as the louvers are removable. UV damage is a huge concern for many owners, and this cover is UV protected, so you won't have a problem with discoloration or cracking. Another quality of this RV vent cover is the aerodynamic design which limits the wear and tear as high winds will simply pass over it.
Bottom Line
This RV vent cover boasts many benefits, including being able to keep your vents open during any weather thanks to the effective protection and guards. A great defense against mother nature is the insect screen which can also be removed for cleaning, meaning it has a 10/10 for convenience.
The ABS plastic that's used is strong enough to last a lifetime and the aerodynamic design also helps limit any damage that could be caused during strong winds. You'll also greatly benefit from the UV resin that acts as a protective layer to save from discoloration. The only problem with this RV vent cover is that it does involve a more complicated setup than the other products.
Camco Decor Mate Stove Topper and Cutting Board
We all know the struggle of not having enough space to prep our meals. Even some extra cutting space would be a blessing, and this RV stove cover kind of opens up the kitchen for any RVer.
This stove topper is the perfect answer, and by placing it on your stove it gives you so much more space to prepare your meals. Once you've finished chopping your vegetables or meat, you'll be able to clean down the surface fairly easily, remove it and get on with the cooking part.
You'll never need to worry about damaging the surface either as it's made from a strong polypropylene plastic that will survive almost anything you can throw at it.
The anti-slip backing makes the stove topper ideal for creating extra space, and even ensures anything placed on it won't slide around even while you're out on the road.
Bottom Line
This stove topper is extremely helpful when it comes to creating extra space to prepare your meals. Another huge benefit is the specially designed grip that allows for a safe platform, so your cups and glasses won't slide around when you're driving.
Once you've finished cooking, the cleanup is even easier, simply wipe it down with warm soapy water. The quality material ensures you'll also find it hard to damage. The only downside to this stove topper is that it only comes in one size so you need to make sure that you've got a stove that will fit.
Camco RV Vent Insulator And Skylight Cover
This simple, yet effective product will successfully help regulate the temperature in your RV by reflecting any sunlight back using the reflective surface. The product can easily be installed and is designed to resemble a pillow. All you need to do is stuff it into the vent which is usually the same size in each RV.
The 2.75-inch insulation is what keeps your RV cool in the summer and warm in the winter by simply switching the sides of the pillow each season. Not only does it regulate the heat but it also acts as an effective light blocker for when you're taking an afternoon nap.
Bottom Line
This RV skylight cover has a fairly basic function and that's to regulate the temperature by blocking off the RV vent. It does this effectively and you'll benefit greatly from the thick 2.75-inch insulation that not only keeps the heat out during the hot months, but also keeps the heat in during the winter months by simply just switching sides.
The model is also easy to install as you just need to stuff it into the vent like a pillow. The only downside is in regards to the insulation gradually shrinking over time due to constant stuffing into the RV vent.
Camco Heavy-Duty Dual Propane Tank Cover
This propane tank cover is one of the most effective and useful models on the market. It will provide your RV with an extra sense of safety and security by protecting your propane tanks from any random dangers on the road.
Propane tanks can be dangerous, but securing them with a cover, takes so much risk out of the equation. The high-quality, durable polypropylene plastic will act as an effective guard against any flying debris or the outside elements. They can fit around 20 or 30-pound steel tanks and still look sleek.
Bottom Line
This propane tank cover gives you the benefit of peace of mind when traveling the open road that you won't start spilling propane everywhere. It's made from highly-durable plastic that should take the brunt of most beatings that traveling can throw at it.
The sleek design allows you to blend in and hide the ugly propane tanks at the same time. A common problem that cropped up among the reviews from RVers is that it doesn't seem very secure when attached at the back. Many people said they had to wrap a cord around it to secure it.
Camco RV and Trailer Refrigerator Roof Vent Cover
This RV refrigerator cover is one of the most sought-after products on offer. This is down to the durable material – polypropylene plastic, which is great for protecting your RV against UV rays. This ultimately helps protect against any discoloration.
The polypropylene plastic material is also great at surviving the most brutal weather conditions. The high-grade plastic is so strong, so you'll be using this for years down the line. The installation is fairly simple, as well as it fits most RV refrigerator vents, and can be installed in minutes.
Bottom Line
The service this refrigerator vent offers is perfect, and it's hard to pick out any faults with this product. It's easy to install as it fits most modern day RVs, and it protects against everything that mother nature can throw at it.
Even during the harshest of weather storms, the durable plastic ensures your cover survives as does your vent. The only problem we could find with this vent cover is that it only offers a one-year coverage.
ADCO Clear RV Windshield Cover
This RV windshield cover is currently the best on the market. It boasts many features such as protecting your dashboard from UV rays which could ultimately fade and crack. It also offers you and your family a sense of privacy and  security at night or when you're parked up.
The door pockets are also extremely secure and can also be removed with ease at any point, it also offers you protection from the heat, even during the hottest parts of the day. The design of the windshield cover is a basic white vinyl which makes it easy to blend into your standard RV color schemes. And you'll also get a convenient storage bag that's included in your purchase.
Bottom Line
This RV windshield cover boasts many benefits. One of the most attractive is the protection against sun damage and heat during the hottest parts of the day. The secure, yet removable, pockets are great for when you want protection against the heat but still want the option of taking them off whenever you want.
You'll benefit from the added storage bag this comes with. It might seems a small matter, but it will allow you to make it more compact when storing, leaving you more space. Another attractive quality is that it has special insect guards on each side where you'd have your windows. 
Buyer's Guide
Here you'll learn the things you should consider before buying a cover for your RV. This includes the importance of protecting your roof, and what types of material you should look for. There's an FAQ section for all things RV covers, too, so by the end of the article, you should be ready to go shopping…
What to Consider Before Buying a New RV Cover
There are a few things you need to consider before buying your RV cover. The following section highlights the features you should be on the lookout for.
Roof Protection
If you don't have a garage and need to park your RV out in the driveway, you'll soon realize mother nature isn't on your side. It quickly takes its toll on the exterior of your RV, so getting some good quality roof protection to act as a protective barrier between your RV and UV rays and poor weather conditions.
Type of Material
The material that's used to make RV covers is an important factor. You'll need to find something that'll survive most of the challenges being thrown at it, like snow and rain. Some RV covers are only made to handle things like dust or act as protection from the sun, so knowing what kind of protection you are getting is really important.
There are two main types of RV covers with different benefits. Woven polyester is more common and is great protection against high temperatures and UV rays, but it isn't as effective at protecting against water.
The other type of material most commonly used would be polypropylene. It's a great material for protecting against almost everything that nature can throw at it,  but it easily tears when under too much strain.
The Size of Your RV
Another important consideration to think of when getting an RV cover is the size of your RV. It might sound obvious, but many people just buy something because they see it on the shelve without knowing the size. You should find one that fits properly, because a strained cover will tear easily. It's recommended to go for a cover that's larger than your RV so that you won't need to worry about it being too small.
Getting The Best RV Covers – for All Things RV
RV covers are essential especially during the times you're not using your RV. A full cover will protect your RV from nature and will help prolong the life of your second home.
It's not just your RV that you need a cover for, either. Whether it's your windshield, vents, spare tires, etc, everything benefits from a cover.
Whatever it is in your RV that you need to cover, we hope this article has helped you in your research and choices. If there's anything we haven't covered, please drop us a message and we will look into adding it. 
Happy camping!
RV Covers FAQs